NBA: Clippers Owner May Have Predicted They'd Be Good Before Kawhi Leonard Came
Los Angeles Clippers owner Steve Ballmer may have already predicted that the team will be up for something good even before Kawhi Leonard came in.
When the Clippers were still owned by Donald Sterling, they were generally viewed as the laughingstock of the NBA. Sterling did not invest much money into the team and refused to sign high-priced free agents or grant his best players the contract extensions they deserved.
Things got worse in 2014 when Sterling's girlfriend revealed an audio recording of the Clippers owner making heinously racist statements. As a result, the franchise was thrown into an absolute tailspin. Head coach and executive Doc Rivers tried his best to take control of the franchise while he, his players, and pretty much everyone around the league was disgusted by Sterling's comments.
The aftermath of the incident was pretty much expected as NBA commissioner Adam Silver quickly banned Sterling from the NBA for life, forcing him to sell the team. According tot Silver, Sterling's comments was "truly offensive and disturbing."
Following Sterling's ban, Ballmer, a former Microsoft executive stepped up to buy the team for $2 billion. As opposed to Sterling, Ballmer was energetic, positive, and upbeat. He took an active role in the team's management without micromanaging or being overbearing.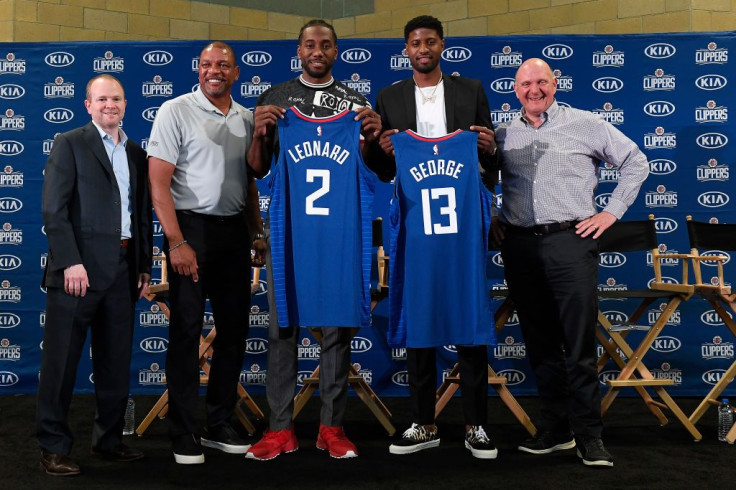 More importantly, Ballmer already knew that the Clippers will be a good investment way before Leonard arrived. According to Ballmer, buying the Clippers wasn't too surprising. He also hinted at making big moves in the future by emphasizing that there's an "upside opportunity" in owing the fracnchise.
"I feel like I paid a price I'm excited about. It obviously was a price that was negotiated and I feel very good about it. It's not a cheap price, but when you're used to looking at tech companies with huge risk, no earnings and huge multiples, this doesn't look like the craziest thing I've ever acquired. There's much less risk. There's real earnings in this business. There's real upside opportunity," Ballmer said in 2014.
Ballmer is now a constant presence around the Clippers. He is seen as a source of positive force even though according to Rivers, Leonard thinks he may have too much energy in him.
"(Ballmer's) been phenomenal to work with. He's got more energy than anybody needs. After Kawhi signed, we had this meeting and Ballmer walks in punching the air and making all these sounds and Kawhi, who doesn't say much, leans over and says, 'That man has too much energy'," Rivers revealed.
© Copyright IBTimes 2023. All rights reserved.
FOLLOW MORE IBT NEWS ON THE BELOW CHANNELS