NBA Draft Salaries: How Much Money Shaq, Chris Webber, Allen Iverson Made As Rookies Compared To Ben Simmons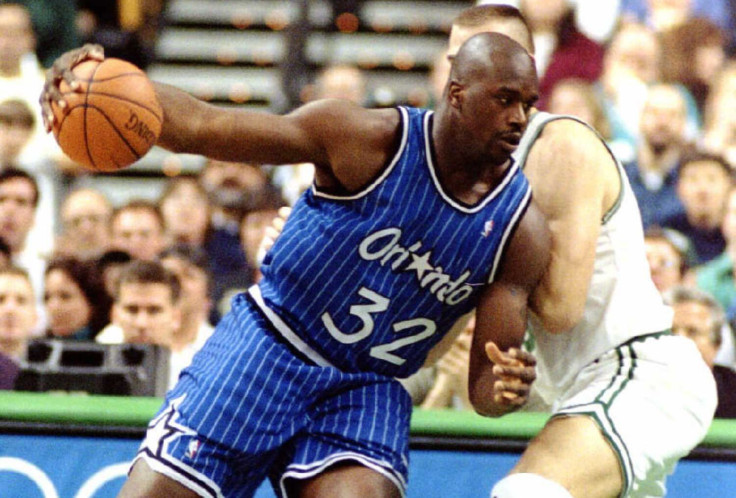 When the Philadelphia 76ers select Ben Simmons with the No. 1 overall pick in Thursday's 2016 NBA Draft, the rookie salary scale will prevent both sides from having to engage in lengthy contract negotiations. But that hasn't always been the case, and rookies of the past routinely signed contracts worth twice as much as what this year's top players will be guaranteed.
Simmons, who turns 20 next month, will get a guaranteed two-year contract with third- and fourth-year options that will offer him a slight raise. His 2016 salary will be a minimal increase from the first-year salary of Karl-Anthony Towns, who made $5,703,600 as last season's top overall pick. While 130 NBA players made more money than Towns in the 2015-16 season, the top picks from the past 30 years were agreeing to contracts that ranked them among the largest in all of basketball.
The NBA has had four lockouts since 1995, and one constant from each deal has been a cap on rookies' wages. Each draft pick receives a set salary based on where he was selected, effectively ending any negotiations between agents and owners.
Glenn Robinson got the last big rookie contract, signing a 10-year deal worth $68 million when the Milwaukee Bucks drafted him first overall in 1994. With the next pick in that draft, the Dallas Mavericks gave Jason Kidd a nine-year, $54 million contract that was almost fully guaranteed.
Chris Webber made history the previous season when he signed with the Golden State Warriors, who acquired him from the Orlando Magic. As the No.1 pick, Webber was given $74 million over 15 years. Penny Hardaway was sent to Orlando in the deal for Webber, and he signed a 13-year, $65 million contract as the third overall selection.
"I want to be reincarnated," joked former NBA player Lenny Wilkens in 1993, in reference to the exorbitant rookie salaries.
Most of the lengthy contracts signed by rookies contained opt-out clauses, allowing them to reap the benefits of exceeding expectations in their early NBA years. But in case they floundered, the top rookies were given the kind of long-term security that players in 2016 won't receive.
Anthony Bennett might be the best example of the rookie salary cap safeguarding a team from footing the bill for a massive, bloated contract. The No. 1 overall pick in 2013 stood to make up to $22.8 million over four years for the Cleveland Cavaliers, a bargain for a top pick by the standards of the 1990s. Instead, Bennett, who received little playing time due to poor performance, earned roughly $11 million over his first two seasons. His contract was bought out by the Minnesota Timberwolves in September for $3.65 million when he was scheduled to make $5.8 million in salary. He was put in the position to sign a minimum salary worth $947,000 by clearing waivers.
After being selected first overall in 1985 by the New York Knicks, who won the NBA's inaugural draft lottery, Patrick Ewing was given a six-year, $17 million contract, as well as a $5 million interest-free loan from ownership, something that wouldn't be allowed under current salary-cap restrictions. David Robinson received a $26 million contract over eight years from the San Antonio Spurs in 1987.
Changes to rookie salaries came in 1995 when the new collective bargaining agreement called for a rookie salary cap. This essentially ended the role of agents battling with owners over how much their clients deserved to make in their first few NBA seasons. Previous contracts were more complicated because of signing bonuses, which skewed first-year salary numbers.
The rookie wage scale meant No. 1 overall pick Joe Smith would receive $2.473 million for his rookie season, and all first-round picks would have three years of a guaranteed contract, followed by unrestricted free agency. Smith signed a three-year deal worth $8.5 million, a year after Glenn Robinson was given a guaranteed contract worth eight times more.
Though former No. 1 picks had once been guaranteed a lot more money over the life of their first contracts, even when accounting for inflation, players are making a lot more money as rookies these days.
Adjusted for inflation, Ewing's $1.25 million rookie salary in 1985 would be worth roughly $2.79 million in 2016. Towns was guaranteed $11.66 million over two years, making more than twice that amount last year.
Shaquille O'Neal's $3 million rookie salary in 1992 is one notable exception. It was a significant increase from Larry Johnson's $1.995 million salary the year before, and it would be worth more than $5 million adjusted for inflation.
Magic Johnson and Larry Bird are credited for saving the NBA in the 1980s, but they didn't make big money initially, even though they quickly signed record-setting deals. Contracts were a lot different when they entered the league in the 1979-80 season, a time that saw the clincher of the NBA Finals air on tape delay. Bird's rookie salary of $650,000 would be worth $2.15 million in 2016, and Johnson signed a 25-year contract worth $25 million after spending just two years in the NBA.
Below is a look at the rookie salaries for every No. 1 overall draft pick since the lottery's inception. Numbers are courtesy of basketballreference.com, as well as other sources. The figures in parentheses are salaries after adjusting for inflation in 2016.
Rookie Salaries for No. 1 Draft Picks
1985: Patrick Ewing, $1,250,000 ($2,790,845)
1986: Brad Daugherty, $500,000 ($1,095,967)
1987: David Robinson, $1,046,000 ($2,212,032)
1988: Danny Manning, $1,650,000 ($3,350,713)
1989: Pervis Ellison, $2,300,000 ($4,455,990)
1990: Derrick Coleman, $2,100,000 ($3,859,951)
1991: Larry Johnson, $1,955,000 ($3,448,321)
1992: Shaquille O'Neal, $3,000,000 ($5,136,906)
1993: Chris Webber, $1,600,000 ($2,660,052)
1994: Glen Robinson, $2,900,000 ($4,700,974)
1995: Joe Smith, $2,473,000 ($3,898,317)
1996: Allen Iverson, $2,267,000 ($3,471,096)
1997: Tim Duncan, $2,967,840 ($4,442,255)
1998: Michael Olowokandi, $2,700,000 ($3,979,369)
1999: Elton Brand, $3,375,960 ($4,868,110)
2000: Kenyon Martin, $3,536,640 ($4,933,961)
2001: Kwame Brown, $3,697,400 ($5,015,519)
2002: Yao Ming, $3,858,240 ($5,152,240)
2003: LeBron James, $4,018,920 ($5,247,224)
2004: Dwight Howard, $4,179,720 ($5,315,612)
2005: Andrew Bogut, $4,340,520 ($5,339,217)
2006: Andrea Bargnani, $4,501,200 ($5,363,840)
2007: Greg Oden, $4,662,000 ($5,401,608)
2008: Derrick Rose, $4,822,800 ($5,381,300)
2009: Blake Griffin, $4,983,480 ($5,580,442)
2010: John Wall, $5,144,280 ($5,667,540)
2011: Kyrie Irving, $5,144,280 ($5,494,117)
2012: Anthony Davis, $5,144,280 ($5,382,724)
2013: Anthony Bennett, $5,324,280 ($5,490,643)
2014: Andrew Wiggins, $5,510,640 ($5,592,111)
2015: Karl-Anthony Towns, $5,703,600 ($5,781,062)
© Copyright IBTimes 2023. All rights reserved.