NBA Trade Rumors: Chicago Bulls' Jimmy Butler, Derrick Rose, Plus Kevin Love, Jahlil Okafor In Potential Deals Before 2016 Draft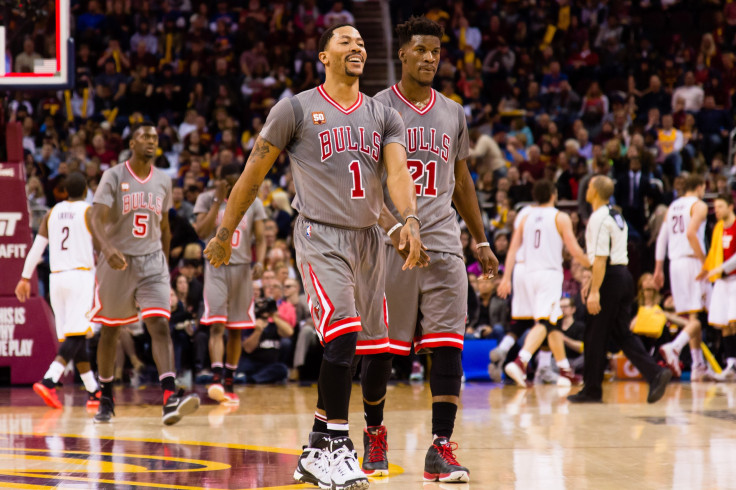 The very top of the 2016 NBA Draft seems to be all but set in stone, but there is a lot that can happen in the final 58 picks. Not only do a number of different players have a chance to be drafted in the lottery, but there might be multiple trades leading up to the draft.
The Philadelphia 76ers and Boston Celtics have been at the heart of most trade rumors involving the draft. Philadelphia is expected to take Ben Simmons with the No.1 overall selection, but the team is reportedly trying to land another top-five pick. The Boston Celtics have the draft's No.3 pick, and they might be willing to deal the selection in exchange for a current NBA player.
After Simmons and Duke's Brandon Ingram, who will likely go to the Los Angeles Lakers at No.2 overall, many teams believe Kris Dunn is the next best player in the draft. Philadelphia is reportedly enamored with the Providence guard, and they might be willing to trade one of their young big men in order to draft him.
Dunn has shot down reports that he doesn't want to play with the Celtics, who are led by point guard Isaiah Thomas.
"The most important thing is going to the right team, going to the best fit," Dunn told InternationaI Business Times last week at a promotional event for Speed Stick. "I think that's the most important thing for every player. Trying to come in and trying to make an impact. I know that's not going to be easy, I know I have to work for it, but I'm willing to do whatever it takes."
With Joel Embiid, Nerlens Noel and Jahlil Okafor in their frontcourt, Philadelphia is reportedly willing to move Okafor. He was taken third overall by the 76ers last year, averaging 17.5 points and 7.0 rebounds per game. Boston would almost certainly have to deal their No.3 pick and perhaps more to land the former Duke standout.
Okafor would give Boston the scoring big man that they've been missing, but the team has bigger aspirations than a largely unproven first-year player. Having made the playoffs two years in a row, the Celtics are looking to acquire a star will make them a contender in the Eastern Conference.
Even though the Cleveland Cavaliers just won the championship, there might be an opportunity for Boston to acquire Kevin Love. Prior to the conclusion of the NBA Finals, Celtics president of operations Danny Ainge met with Love's agent, according to RealGM. Agent Jeff Schwartz represents Harrison Barnes, as well, and the meeting might not have had anything to do with Love. But Boston has been linked to Love for the past two years, and he failed to be a major contributor in Cleveland for most of the finals.
CSN's A. Sherrod Blakely says the Celtics want to acquire an All-Star with the No.3 pick, perhaps a player like Kevin Durant or Jimmy Butler. Durant will be a free agent this summer, and while the Chicago Bulls aren't actively shopping Butler, ESPN reports that the team is willing to listen to proposals.
Butler is reportedly coveted by the Minnesota Timberwolves, who are now led by former Chicago coach Tom Thibodeau. Minnesota has the No.5 pick in the draft.
Chicago would likely be much more interested in dealing Derrick Rose than Butler. Rose hasn't returned to his MVP-level of five years ago since suffering multiple knee injuries, averaging 16.4 points on 4.7 assists in 66 games last year. It was the first time Rose played more than 51 games in a season since 2011.
The New York Knicks might have the worst combination of point guards in the NBA, and ESPN reports that the team has had internal discussions about trading for Rose. The only problem is the Knicks have very little in the way of trade assets, and they don't even have a pick in the upcoming draft.
Rose has one year left on his contract worth more than $21 million.
© Copyright IBTimes 2023. All rights reserved.