Lakers Draft News: LA Eyes Duke's Brandon Ingram, Potentially The NBA's Next Superstar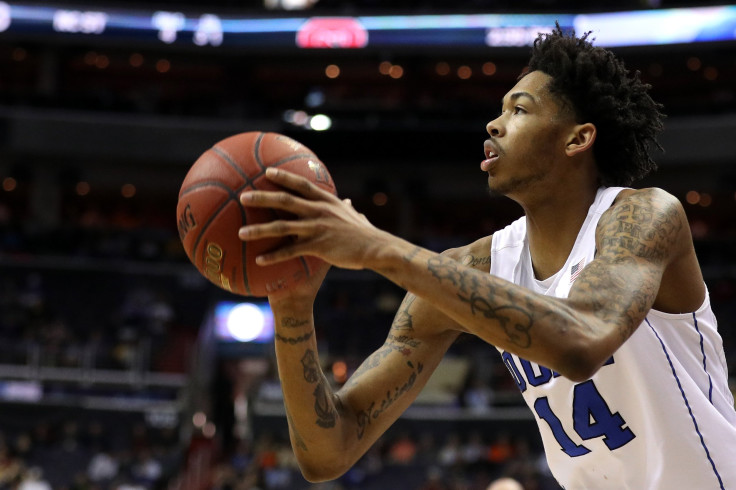 Kobe Bryant has played his last game for the Los Angeles Lakers, and the organization is hoping to find the next face of their franchise in the 2016 NBA Draft on Thursday in New York City. The player who'll get that chance will likely be Brandon Ingram, who enters Thursday's draft, which is being held in Brooklyn, New York's Barclays Center, after just one season at Duke University and may have all the qualities to lift the famed basketball club out of its recent doldrums.
There is plenty of uncertainty surrounding the final 58 picks, but it's no secret which two players will go off the board first. The Philadelphia 76ers reportedly want LSU's Ben Simmons with the top selection, and the Lakers will be more than happy to take Ingram at No. 2 overall.
Ingram entered the 2015-16 college basketball season as the No. 3-ranked freshman in the country behind Simmons and Kentucky's Skal Labissiere, and he was as good as advertised. Averaging 17.3 points, 6.8 rebounds and 2 assists, he helped the Blue Devils reach the Sweet 16.
Simmons was expected to be the clear No. 1 overall pick when the season began, but flaws in his game, like his lack of a jump shot, have forced some scouts to rank Ingram as the better prospect. Simmons' LSU team didn't even make the NCAA tournament, and his drive to be a great player has been called into question.
"I think I always play with a chip on my shoulder. Whatever organization takes me, I'm going to play like the No. 1 player in the country," Ingram told International Business Times at a promotional event for Speed Stick, discussing the possibility of being passed over as the draft's top selection.
Standing at 6 feet 9 inches tall, Ingram has the skill set necessary to become a star in today's NBA. He's a terrific shooter for a player of his size — he averaged 2.2 threes per game on 41 percent shooting from behind the arc at Duke — and his athletic ability makes him one of the most versatile players in the draft.
The NBA's top teams have stars that can play multiple positions. LeBron James can play basically any position on the court, and Draymond Green's ability to defend all five positions has been key to the Golden State Warriors' success. The Oklahoma City Thunder almost upset the Warriors in the conference finals by utilizing Kevin Durant at both power forward and small forward, and he played exceptional defense when he was switched onto Golden State's guards.
"The game has changed over time. Guys are a lot stronger and bigger. You have to bring that to the game. You have to be able to shoot, get to the basket and defend," Ingram said. "I think I'm positionless. I think you could put me at any position and I'll thrive …Just put me at any position, let me stretch the floor and be able to defend those guys at the same time."
Ingram is often compared to Durant, who was drafted second overall in 2007 after just one year in college. Durant is listed at one inch taller than Ingram and he came into the league 20 pounds heavier, but he infamously was the only player at the draft combine that wasn't able to bench 185 pounds. The same physical questions that plagued Durant are now being directed at Ingram.
Durant quickly gained strength and developed into one of the NBA's elite players. At just 18 years old, Ingram is far from a finished product, but there's no doubt that he'll quickly improve upon his weaknesses, of which a few stand out.
Ingram will present problems for opposing defenses because of his ability to stretch the floor, but he could have trouble on the defensive end because of his size. He's not yet big enough to guard power forwards or centers, and he doesn't have the lateral quickness to stay with shooting guards and some of the league's best small forwards.
He made three-pointers at an impressive rate in college, but Ingram's jump shot isn't yet where it needs to be in order for him to play at an All-Star level.
"Moving my feet quickly. Developing a midrange game. Just trying to handle physicality a little better than I did in college, just knowing that these guys are a lot stronger. The physicality of the game changes a little bit more. Just trying to battle," Ingram said when asked about areas of his game that need improvement.
"Of course the guys in the NBA are way stronger. They get stronger every summer, day in and day out in the NBA. But of course, I think I'm way stronger than people think. I've been developing some since I've been out of college, so it's something that I've been working on."
Kevin Durant vs. Brandon Ingram | PointAfter
Ingram will be wearing purple and gold if things go as expected, though nothing is a done deal. The 76ers could have a change of heart and go with Ingram at No. 1, leaving Los Angeles to select Simmons. No matter whom the Lakers select, more than ever, the team needs their top draft pick to live up to expectations. The Lakers are going through a youth movement, and there are higher expectations for the No. 2 pick after some growing pains with last year's second pick, D'Angelo Russell.
Los Angeles is coming off its worst two-year stretch in franchise history, going a combined 38-126, and getting the No. 2 pick after finishing dead last in the West with just 17 wins. The Lakers' dismal season was highlighted by Bryant's last hurrah, but the team's struggles will be even more prevalent next year without the same distraction.
Before they missed the playoffs in 2015, the Lakers had failed to qualify for the postseason in consecutive years just once in their history, having won 16 championships as one of the most-storied franchises in all of professional sports. Whether it's Elgin Baylor, Jerry West, Kareem Abdul-Jabbar, Magic Johnson, Shaquille O'Neal or Bryant, LA has almost always been led by a superstar.
Unless something drastic happens in free agency, the Lakers will be without one of the faces of the NBA for the first time in two decades. There is some pressure on the incoming rookie, whether it's Ingram or another player, to help take the sting out of the league's most glamorous franchise losing one of the game's most exciting stars.
Bob Dorfman, executive creative director at Baker Street Advertising in San Francisco, doesn't expect any incoming rookie to fill the huge shoes of Bryant anytime soon.
"It's possible that it can happen as he progresses and gets better," Dorfman said of Ingram. "Compared to some of the other big-name players that have come into the league from the draft who have had a lot of hoopla, and attention around them, you have to go back. You have to think about LeBron James and Kevin Durant. There's just not a lot of that coming from this draft.
"It's going to be a process. There's not one guy coming out of the draft that's going to make an instantaneous difference."
© Copyright IBTimes 2022. All rights reserved.
FOLLOW MORE IBT NEWS ON THE BELOW CHANNELS