NBA Finals 2015: How Stephen Curry Went From Unheralded College Recruit To LeBron James Rival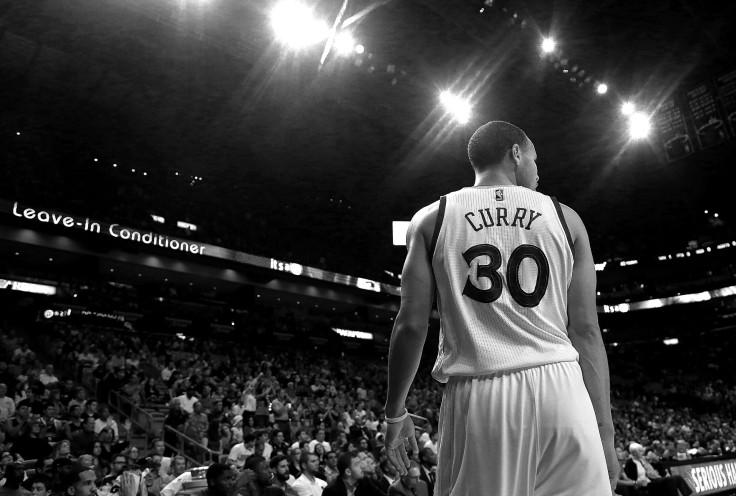 Nearly seven years before Stephen Curry became the NBA's reigning most valuable player, the scrawny guard led tiny Davidson College into an early-season battle against the North Carolina State Wolfpack. LeBron James, already a well-established NBA superstar, sat courtside, unaware he was watching the man who would become his chief rival in the 2014-15 NBA Finals.
As Davidson sought to extend a one-point lead, Curry already had 39 points with less than two minutes remaining. Teammate Will Archambault shot an air ball, but a fellow Wildcat grabbed the rebound just as Curry drifted toward the three-point line, calling for the ball just steps away from midcourt. Curry caught the pass and drained a shot with two defenders in his face, something that would become his trademark. The hometown crowd went wild while Curry, stoic as ever, made sure James saw what he had just done.
"He ran back down the court and kind of pointed at LeBron," said Will Reigel, Curry's former teammate and now an assistant coach at Davidson. "That was a time we knew he was going to be something special."
James will have a much closer – and much more stressful – view of Curry's exploits Thursday night, when he faces the Golden State Warriors at Oracle Arena in Oakland, California. He and his Cleveland Cavaliers teammates will face the unenviable task of stopping the man who broke the NBA's single-season record for most three-pointers made while leading the Warriors to a league-best 67 wins.
It's an outcome that few could have anticipated a decade ago, when major college basketball schools largely ignored the scrawny guard out of Charlotte Christian School in North Carolina. Curry had both the pro basketball pedigree, as the son of former NBA sharpshooter Dell Curry, and the requisite high school résumé, earning all-state honors. But most colleges felt Curry, at 6-feet-2 and just 160 pounds, lacked the size to make it at the next level.
Top scouting services Rivals.com and Scout.com each listed Curry as a three-star prospect out of high school. Though his skills as a shooter were apparent, Curry did not receive a scholarship offer from a single major conference program. Even Virginia Tech, Curry's favored destination and his father's alma mater, was only willing to offer him a spot as a preferred walk-on.
"With Steph growing up in Charlotte, we obviously could see and hear a lot about him during the basketball season and he was a very productive player in high school. He just really didn't have a well-muscled body at that point and didn't really look the part," said Jim Murphy, director of athletics at Davidson College since 1995.
Faced with offers from mid-major schools like Virginia Commonwealth University and Wofford College, Curry chose Davidson, where head coach Bob McKillop saw something in him from the start. Even before the 2006 season began, McKillop knew he had found a player to build his program around. "Wait till you see Steph Curry. He is something special," McKillop told a group of alumni before Curry's freshman year, according to USA Today.
'He Had That Chip On His Shoulder'
It didn't take long for Curry to reward McKillop's faith. He quickly established a reputation at Davidson as a relentless worker, wowing teammates not only with his shooting skills, but with his efforts in the weight room and at the team's practices. Attempts to improve his strength and explosiveness paid immediate dividends, as Curry scored a team-high 21.5 points per game as a freshman and led the Wildcats to a 29-5 record.
"He had that chip on his shoulder of not getting recruited by the big guys and not following his dad's footsteps at Virginia Tech, for example," said Archambault, Curry's teammate for three seasons at Davidson. "I think it made him work even harder. He has this desire to prove people wrong."
Curry built on his success as a sophomore, when he scored nearly 26 points per game and led Davidson to its second consecutive March Madness berth. But it wasn't until the 2008 NCAA tournament that his exploits started to receive national attention. Curry scored at least 30 points in each of Davidson's upset victories over Gonzaga, Georgetown and Wisconsin, all perennial national title contenders. Davidson lost in the Elite Eight to the eventual tournament champion Kansas Jayhawks, but Curry's virtuoso performance catapulted him from virtual unknown to legitimate NBA prospect.
The breadth of Curry's newfound fame was apparent when the Wildcats returned home for a post-tournament party at Davidson's Belk Arena. The school held a ceremony to honor the team's accomplishment and allowed fans and local media to interact with players. Kevin Cary, who covered Davidson basketball for the Charlotte Observer at the time, tried to talk to Curry, who was about to experience a brush with celebrity.
"I was standing next to Stephen and I started to ask him a question, and there were about 200 kids who just ran to him," Cary said. "Security had to move in front of us, like he was a rock star. His face, you could just see, his eyes were really big, like 'this is new, I've never experienced this before.' "
Stephen Curry Overview | PointAfter
By the time he returned to Davidson for his junior season, he had evolved from the quiet, hardworking teenager that first caught McKillop's eye to the heart and soul of Davidson's roster. Curry wasn't the most vocal player in the Wildcats' locker room, but teammates looked to him as a leader and relied on him in crucial moments. Suddenly, Davidson's road games were an attraction, as fans of opposing schools packed arenas to catch a glimpse of a breakout star.
Despite his national following, Curry remained the same humble, down-to-earth guy that Davidson's players and staffers had grown to appreciate. This grounded demeanor surprised Reigel, who had harbored resentment toward Curry since high school. As a high school senior, Curry had defeated Reigel's school four times, including one memorable game in which Curry trash-talked Reigel before a key free throw.
But the animosity evaporated when Reigel visited Davidson's campus as a high school senior, the year of Curry's Elite Eight run. Curry spotted his old rival and treated him as if they were old friends.
"I didn't think he had any clue who I was," Reigel said. "He stops, he remembers my name, he asks me how I'm doing, how my team's doing. Nicest guy in the world. Here I am holding this grudge against him and I meet him and I'm like 'what the hell was that?' "
Eventually, Reigel committed to play basketball alongside Curry at Davidson. When he arrived, Curry helped him move into his dorm room.
"He comes from a great family. He's got great morals," Reigel said. "For what he's accomplished, for what he is right now, it's really remarkable that he's been able to maintain being the person he's always been."
NBA Stardom
The same size and athleticism concerns that limited major-program interest in Curry before college led some to question how much of an impact he'd have in the NBA. Pundits criticized the level of competition Curry faced at Davidson and wondered how he would fare against bigger, stronger professional defenders.
The Warriors drafted Curry with the seventh pick in the 2009 NBA Draft, and he has rewarded them ever since. In six NBA seasons, he has earned a pair of All-Star appearances, led the NBA in three-pointers on three occasions and spearheaded Golden State's run of three consecutive playoff appearances.
Curry's rise to NBA stardom culminated in May, when he was named league MVP for the first time. He has averaged 29.2 points per game this postseason, outpacing James, the living legend who once watched him light up the gym as a college sophomore. Curry's parents, Dell and Sonya, have been fixtures in the crowd through this year's playoffs. His daughter, Riley, has become a star in her own right, stealing the show at postgame press conferences.
Even now, as he prepares to face James in his first NBA Finals, Curry remains close with his old teammates at Davidson. He hasn't changed, in spite of nationwide fame and lucrative endorsement deals.
"He's the total package," Archambault said. "He's everything that a basketball coach would want to have on his team, a wife would want to have in a husband and a friend would want to have in a friend."
© Copyright IBTimes 2023. All rights reserved.