NBA Finals 2015 With LeBron James And Stephen Curry Bring Highest TV Ratings Since 2001; 40% Of Bay Area Tuned In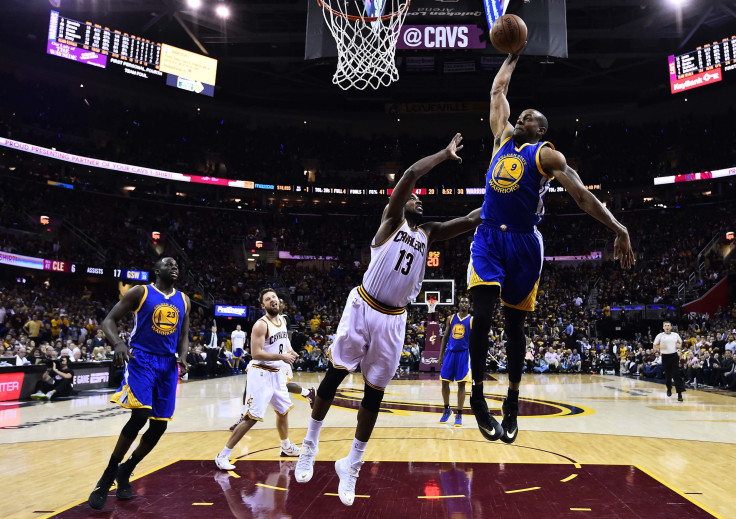 (UPDATED at 5:32PM with final Nielsen numbers)
The NBA Finals everybody saw coming turned out to be the highest-rated championship series in 14 years. On Tuesday night, as an unfathomably deep Golden State Warriors team pulled away from the Cleveland Cavaliers' LeBron James and a hobbled, short-handed supporting cast to win the NBA Finals four games to two, nearly 16 percent of American households were tuned in to watch, according to Nielsen overnight ratings provided by ABC.
The six-game series averaged a 13.9 overnight rating, up 31 percent from the 10.6 rating averaged during the 2014 NBA Finals, and the highest rated NBA Finals ever on ABC, which started broadcasting the Finals in 2003. Overnight ratings are not considered comprehensive. The final numbers, released later in the day, showed that on average, more than 19 million people tuned in to each Finals game, good for a 11.6 household rating. The 11.6 household rating is a 26 percent increase from the 2014 NBA Finals ratings.
Interest in this year's series could be pegged to a number of things: the sight of James once again playing in a Cleveland Cavaliers jersey after his successful run in Miami; the fluid, gun-slinging style of the Warriors, which made them a historically great team during the regular season.
The overnights released this morning suggested that this could have been the highest-rated NBA Finals since 1998, the last NBA Finals Michael Jordan ever played in. After Jordan retired, the NBA's postseason ratings fell off a cliff, and despite the emergence of the Lakers and Spurs dynasties and a surge of interest in James's Heat teams, the playoff ratings have been struggling to get back to those heights since. Instead, they came up shy of the 2001 ratings, when the Los Angeles Lakers steamrolled the Philadelphia 76ers, four games to one. That series drew a 12.1 rating.
Passionate Fanbases
To say the game was of great interest to its local fan-bases would be an understatement. More than 40 percent of San Francisco households were tuned in to the game, according to Nielsen. That is the highest local rating ever recorded for a NBA game in San Francisco, which hadn't seen the Warriors win a NBA Championship in 40 years.
In Cleveland, a sports-mad, success-starved town that hasn't won a major sports championship in over 50 years, 42 percent of households watched, and thousands more gathered outside the sold-out Quicken Loans Arena to watch a tape-delayed broadcast of the game on large screens. Nearly half the households in Cleveland tuned in to watch Game Three, the first Finals game of this series to take place in Cleveland.
Digital audience
A healthy number of people watched the game on something other than a television. According to ABC, 939,000 people tuned into the game via WatchESPN, the streaming video service that enables users to watch live sporting events on computers, mobile devices or connected televisions. That is a record audience for a NBA game on the platform. On average, more than 750,000 people tuned in via WatchESPN, up more than 100 percent from last year's average audience.
© Copyright IBTimes 2023. All rights reserved.