NBA Finals 2016: Is LeBron James Playing The Best Basketball Of His Career?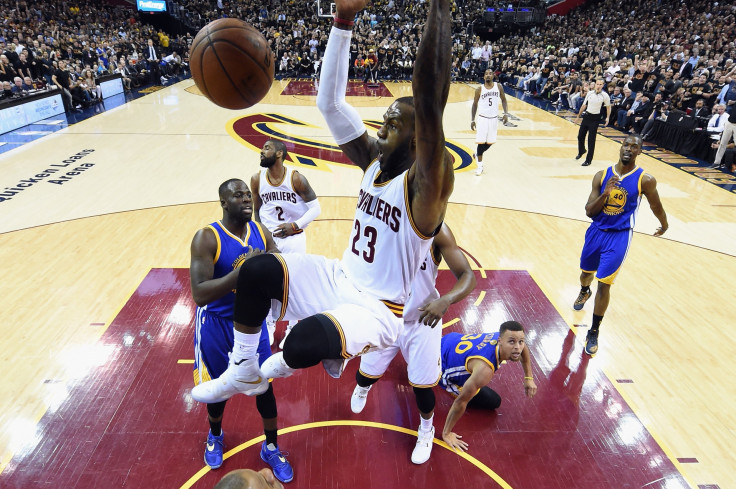 LeBron James has been so good for so long that many fans have become numb to his greatness. Triple-doubles are almost commonplace, and he often gets criticized while putting up numbers that few in the league could match on their best day.
But James has raised his game to such a level in the 2016 NBA Finals that even his most ardent critics can only watch in awe at what he's accomplished. Leading the Cleveland Cavaliers to victories in Game 5 and Game 6, James might be performing at the highest level of his 13-year career.
James was spectacular when he helped the Cavs stave off elimination in Game 5. Granted, the Golden State Warriors were without a suspended Draymond Green, but James was still the best player on the court against a team that had been 50-3 at home. He scored 41 points on 30 shots, adding 16 rebounds, seven assists, three blocks and three steals.
Golden State was thought to be in good position to clinch the title when the series returned to Cleveland for Game 6. But the idea that James couldn't possibly have a repeat performance proved to be a fallacy, and the four-time MVP was arguably even better than he had been three nights earlier. Scoring 41 points on 27 shots this time, James filled up the stat sheet with eight rebounds, 11 assists, three steals and four blocks.
As the Warriors made a late push in Game 6 and cut what was once a 24-point Cavalier lead down to just nine at the start of the fourth quarter, James refused to let the defending champs get any closer. Every time Golden State made a big shot, he had an answer. At one point, James scored 18 straight Cavalier points, and he ended the game by scoring or assisting on 35 of the team's final 36 points. The only point that James didn't play a role in was the Kyrie Irving free throw that resulted from a Stephen Curry technical foul.
James received notable assistance from one of his teammates in each game. Irving was nearly as good in Game 5, scoring 41 points of his own on just 24 shots. With Irving scoring just three points in the second half of Game 6, it was Tristan Thompson who stepped up, grabbing 16 rebounds and scoring 15 points.
It can be argued that James has had better individual performances than either Game 5 or Game 6, but never has he put two games together like this, back to back.
The closest James has ever come was in the 2013 finals. James was in his physical prime, coming off the best regular season of his career. With the Miami Heat trailing the San Antonio Spurs 3-2 in the series, James scored 16 points in the fourth quarter of Game 6, hitting a key three-pointer with 20 seconds left that helped keep Miami's playoff hopes alive. Following a triple-double—32 points, 10 rebounds, 11 assists—in Game 6, James tallied 37 points and 12 rebounds in the Game 7 clincher, making a back-breaking 19-footer with 27 seconds left.
But James' numbers from three years ago don't compare to those that he's put up this week, and he didn't have to carry the same load, playing alongside Dwyane Wade and Chris Bosh. Irving has played as well as Cleveland could have hoped, but Kevin Love has been basically nonexistent, leaving the Cavs without much of a "Big 3."
Other playoff performances stand out on James' ledger. He had 45 points, 15 rebounds and five assists in Game 6 of the 2012 Eastern Conference finals, forcing a Game 7 against the Boston Celtics that eventually led to James winning his first championship. Five years earlier, he put up 48/9/7 in Game 5 of the conference finals, scoring Cleveland's final 25 points, including the go-ahead layup with 2.2 seconds left in the game's second overtime. Neither time, however, was he able to match that performance in the following game.
At 31 years old and having played nearly 47,000 minutes in the NBA, it seemed that James was just past his peak. Curry appeared to have taken the mantle as the league's best player with two straight MVP awards. James finished third in the voting in both years after winning the award four times from 2009-2013, and though still among the game's elite players, it looked like he might be just a notch below the player that won consecutive championships in Miami.
But James has proven that when he needs to be, he's as good as he's ever been. In career playoff games No.197 and 198, he joined Michael Jordan, Shaquille O'Neal, Rick Barry and Jerry West as the only players to score at least 40 points in consecutive finals games.
In helping to force a Game 7, James has managed to play near mistake-free basketball. He's turned the ball over an astonishing three times in the last two games, despite facilitating the offense on many of Cleveland's possessions. By comparison, Curry has eight turnovers in the last two games, and Irving has seven.
While James' blocks and steals stand out, his numbers don't accurately reflect how well he's played on the defensive end. He's been equally as dominant on both sides of the floor, playing exceptional help defense and turning Golden State mistakes into Cleveland buckets.
No one sequence better highlighted James' dominance than the one right before Curry fouled out in the fourth quarter of Game 6. After tossing an alley-oop to Thompson that put the Cavs up by 13 points with 4:43 remaining, James blocked Curry's attempt for a layup, sending the Cleveland crowd into a frenzy.
It was the exclamation point on one of the best two-game stretches in NBA history.
The Warriors are just hoping that it doesn't continue in a third game. Otherwise, their record-setting season will almost certainly end in disappointment.
© Copyright IBTimes 2023. All rights reserved.