NBA Finals 2019 Betting Odds: Warriors The Early Favorites? Rockets, Sixers, Lakers In The Mix?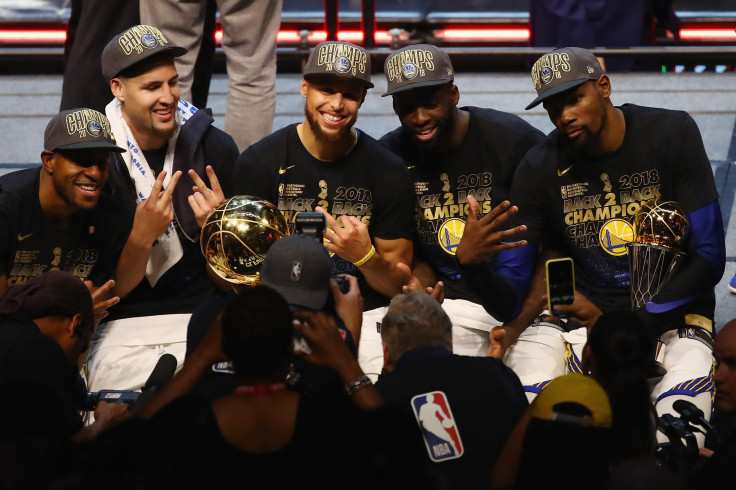 The impending NBA free-agent market offers plenty of opportunities for the balance of power to shift. LeBron James, Kevin Durant, Chris Paul and Paul George are just some of the names that will be available this summer, presenting countless hypothetical maneuverings that could create a championship-contending club.
This free-agent class could potentially slow the Golden State Warriors' dynasty, but it will probably be difficult. The Warriors have reached the NBA Finals in four consecutive seasons and Steve Kerr's squad can continue to thrive, as Durant has stated that he intends to re-sign.
Despite James possibly landing on a new team, oddsmakers continue to like the Warriors' chance of a three-peat. According to betting site Vegas Insider, the Warriors are the clear favorites at 5/4. Steph Curry is under contract next season, while Draymond Green and Klay Thompson are expected to sign contract extensions.
After the Warriors are three teams that made a strong run in 2018. The Houston Rockets and Philadelphia 76ers were both given 7/2 odds. The Boston Celtics, who will welcome back injured stars Kyrie Irving and Gordon Hayward, are listed at 8/1.
Then the list gets interesting. The Los Angeles Lakers may have as much as $70 million in salary cap space, with many expecting team president Magic Johnson to make a hard pitch for James and George. The Lakers currently have 20/1 odds but that should fluctuate as the summer progresses based on where free agents ultimately end up.
Joining the Lakers at 20/1 odds are the Miami Heat, who finished with a 44-38 record. The Heat don't have salary cap space and it's unclear if Dwyane Wade will be back in 2018-19.
Two teams that have had plenty of success over the years find themselves behind the Lakers and Heat. The San Antonio Spurs and the Eastern Conference champion Cleveland Cavaliers, two teams that may have an outside shot at James this offseason, are listed as 25/1 and 30/1 longshots, respectively.
The biggest longshot is the Atlanta Hawks at 1,000/1.
2018-19 NBA Finals Betting odds (Vegas Insider)
Golden State Warriors, 5/4
Houston Rockets, 7/2
Philadelphia 76ers, 7/2
Boston Celtics, 8/1
Los Angeles Lakers, 20/1
Miami Heat, 20/1
San Antonio Spurs, 25/1
Cleveland Cavaliers, 30/1
Toronto Raptors, 40/1
Oklahoma City Thunder, 60/1
Utah Jazz, 60/1
Minnesota Timberwolves, 80/1
New Orleans Pelicans, 80/1
Portland Blazers, 80/1
Denver Nuggets, 100/1
Indiana Pacers, 100/1
Los Angeles Clippers, 100/1
Milwaukee Bucks, 100/1
New York Knicks, 100/1
Washington Wizards, 100/1
Phoenix Suns, 200/1
Brooklyn Nets, 300/1
Charlotte Hornets, 300/1
Chicago Bulls, 300/1
Dallas Mavericks, 300/1
Detroit Pistons, 300/1
Sacramento Kings, 300/1
Memphis Grizzlies, 500/1
Orlando Magic, 500/1
Atlanta Hawks, 1000/1
© Copyright IBTimes 2023. All rights reserved.