NBA Finals 2019 Odds: Warriors Favored, Celtics, Rockets, Raptors Are Long-Shot Contenders
The story is the same once again in the NBA playoffs. The Golden State Warriors are the odds-on favorites to win the 2019 NBA Finals, and it would be considered one of the all-time upsets if they don't go on to win another championship.
The back-to-back defending champs didn't finish with the best record in basketball, though they are the top seed in the Western Conference. Golden State didn't need the No.1 seed to win their second straight title a year ago. As long as Stephen Curry, Kevin Durant, Klay Thompson and Draymond Green are all healthy, the Warriors will be expected to win their fourth title in five years.
The Milwaukee Bucks have the best record in the NBA, and they would have home-court advantage over Golden State in the finals. They are the only other team with better than 10/1 title odds. Giannis Antetokounmpo is the favorite to win the MVP award.
Three teams have somewhat long odds to win the championship, but they are still considered contenders. The Boston Celtics, Toronto Raptors and Houston Rockets could potentially give Golden State some trouble in a seven-game series.
Houston took Golden State to seven games in last year's Western Conference Finals. The Rockets haven't been as good this season, though James Harden has somehow improved upon last year's MVP campaign. The Rockets will be forced to take on the Warriors in the second round this postseason if they get by the Utah Jazz in the first round.
Boston was thought to be the biggest threat to Golden State at the start of the season. Some experts even picked them to beat the Warriors in the finals. Those predictions haven't looked very smart as the season has gone along, and Boston might be lucky to get out of the second round. If the Celtics can defeat the Indiana Pacers in the first round, they are almost certain to face the Bucks in the conference semifinals.
It can be argued that Toronto would give Golden State the most problems. The Raptors had a better regular-season record than the Warriors, and Kawhi Leonard has proven to be one of the great playoff performers of the last several years.
The Philadelphia 76ers have slightly worse odds than that tier of three contenders. They might have the most talented starting lineup outside of Golden State.
No one else has better than 25/1 title odds.
Here are the 2019 NBA Finals odds, via BetOnline:
Golden State Warriors -200
Milwaukee Bucks +500
Boston Celtics +1200
Houston Rockets +1200
Toronto Raptors +1200
Philadelphia 76ers +1600
Denver Nuggets +2500
Oklahoma City Thunder +4000
Utah Jazz +4000
Portland Trail Blazers +10000
San Antonio Spurs +10000
Brooklyn Nets +15000
Indiana Pacers +15000
Orlando Magic +15000
Detroit Pistons +25000
Los Angeles Clippers +25000
​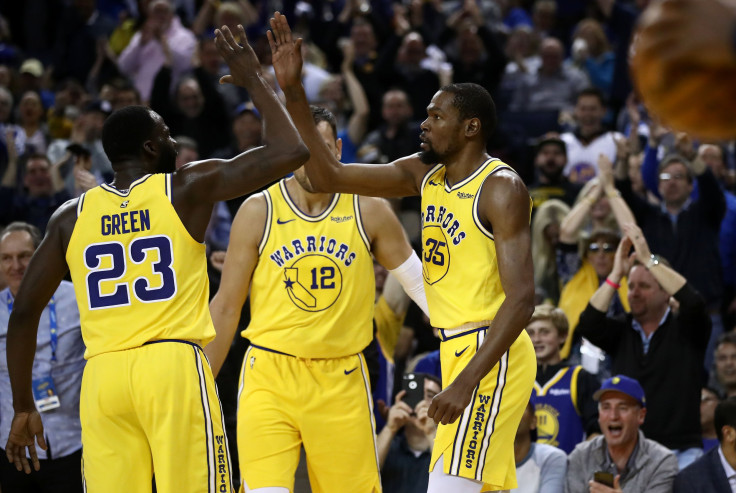 © Copyright IBTimes 2023. All rights reserved.