NBA Finals: LeBron James Calls Anthony Davis Defensive Player Of The Year
KEY POINTS
LeBron James declared Anthony Davis the "Defensive Player of the Year"
The Los Angeles Lakers survived a tightly contested Game 4 against the Miami Heat
Upon signing with the Lakers in 2019, Davis admitted that one of his goals was to win the DPOY award
Another Los Angeles Lakers win means another Anthony Davis commendation from LeBron James.
As the Lakers move closer to winning the NBA title by virtue of a 102-96 Game 4 win over the Miami Heat on Tuesday, James hailed his superstar teammate anew, calling him the Defensive Player of the Year despite, obviously, the award being given to Milwaukee's Giannis Antetokounmpo.
"That's why he's the defensive player of the year," James said, per Sports Illustrated, after Davis displayed impressive versatility in guarding Jimmy Butler – the Heat's hero in Game 3.
Davis was snubbed from the latest DPOY award as he finished second in the voting with 200 total points behind Antetokounmpo's 432.
Davis' defensive prowess was once again in full display as the Lakers overcame a nip-and-tuck battle against the Heat to take a commanding 3-1 lead. He finished with 22 points, nine rebounds, four assists and four blocks while notching a game-high +17 efficiency rating.
When Davis signed with the Lakers in 2019, the seven-time All-Star immediately set his goal with the purple and gold. And apart from winning the championship, he admitted that capturing the DPOY award is also a prime target for his hardware collection.
"I want to be Defensive Player of the Year. I think if I'm able to do that, I can help this team win," Davis said prior to the start of the season, via Bleacher Report. "The offensive end will come around, but defensively, I want to hold myself, teammates, including LeBron, accountable in order for us to take on the challenge of being the best we can defensively."
More than a year later, the 6-foot-10 big man missed the individual award. But while he may have failed in his first attempt at the DPOY as a Laker, his other goal remains in play, and he could achieve it by helping L.A. win one more game against the Heat.
"You don't have to say anything to Anthony Davis. He wants this more than anything," Lakers coach Frank Vogel said after the game.
Davis focused on his defense in Game 4, but he still made sure to have his share of the spotlight down the stretch.
With the Lakers up by six, 97-91, with less than a minute left, Davis took the ball at the top of the key as the shot clock was winding down. He created a slight separation with Bam Adebayo using a quick jab step before launching a cold-blooded three-pointer that served as the dagger to seal the game.
"Obviously, he's a great player, capable of imposing his will on the game on both ends of the floor," Vogel added. "You saw what he did tonight defensively, and obviously, that big three helped seal it."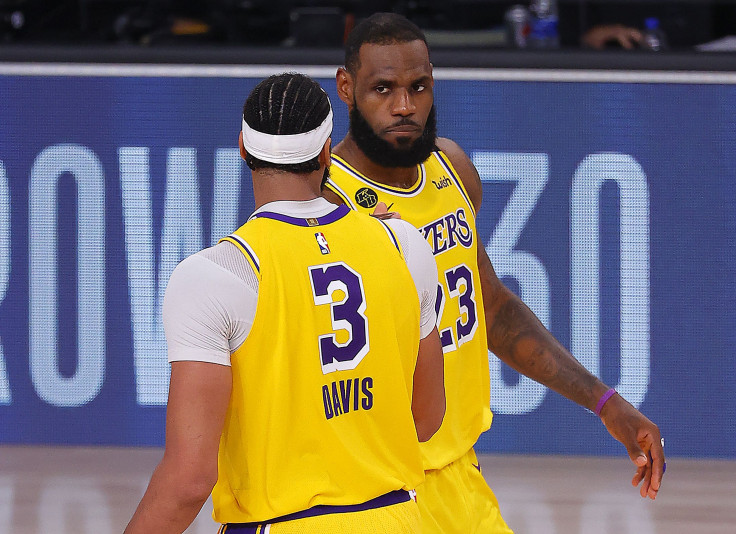 © Copyright IBTimes 2022. All rights reserved.
FOLLOW MORE IBT NEWS ON THE BELOW CHANNELS