NBA Finals News: Are NBA Officials in the Bag for the Miami Heat?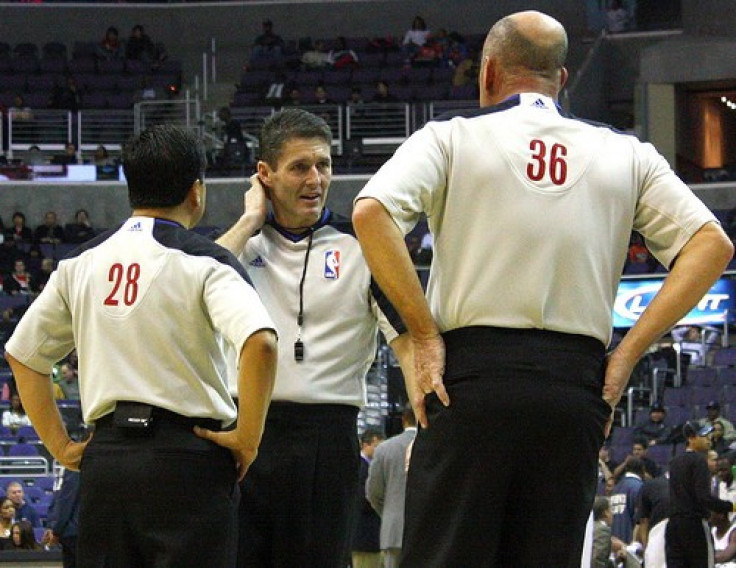 The Miami Heat lead the Oklahoma City Thunder 3-1 in the NBA Finals, and some fans and critics are alleging that Miami has gotten a little help on their way there.
Even though the Heat are shooting better than the Thunder, and playing sound fundamental basketball, critics have blamed the officiating for the turnout of the series.
The Heat are only averaging 2.5 more free throws per game than the Thunder, but for many observers that stat isn't enough to indicate the games are being called both ways.
Many point to when and who the fouls are called on. Kevin Durant, in Game Two and Game Three, has been subjected to many debatable calls. He has spent much of the series on the bench early in games due to foul trouble.
Not foul, Durant said, when asked about what he can do to avoid the problem. I mean, I don't know. I'm just trying to play aggressive on both ends, and unfortunately I'm getting some fouls called on me, but I've got to play through it.
Durant has not been so lucky on offense either.
The most debatable call came at the end of Game Two when Durant appeared to be fouled by James late on a game-tying shot. Durant missed the shot and the Thunder lost the game. An officiating controversy was born.
Officiating has been under attack in the NBA all season, and throughout the playoffs with many fans feeling that their team was unfairly cost a game one way or the other. It is a common perception, especially in the NBA where scandals like the Tim Donaghy affair have raised some legitimate questions about officiating.
If that call was made and Durant tied the game, who knows how that might have affected the outcome.
But in the end, most of those complaints are moot. The calls were made, the game is over and the NBA is not going to change the outcome of a game after the fact based on a missed call.
Thunder head coach Scott Brooks has expressed his frustrations with the officiating on the bench, but has not pursued them publically as some coaches have in previous NBA Finals. Former Chicago Bulls and Los Angeles Lakers head coach Phil Jackson is famous for using the media to lobby officials, especially during the Finals.
Most calls in the NBA are judgment calls. At key moments in this series, more tight calls have appeared to go against Oklahoma City. But if the Thunder expect to come back from a 3-1 series deficit, they will need to make adjustments and play for efficient basketball -- not look around for someone to blame.
Finger pointing rarely has its benefits.
© Copyright IBTimes 2023. All rights reserved.