NBA: Indiana Pacers' Star Guard To Return In Starting Lineup After All-Star Break
KEY POINTS
Victor Oladipo might return to Pacers starting lineup after break
Oladipo shows rust since return from injury
Pacers looking to snap losing streak
Victor Oladipo might return in the starting lineup of the Indiana Pacers immediately after the All-Star break. The 27-year-old had missed about a year of basketball action due to a ruptured right quad tendon injury and has been playing less than 30 minutes off the bench since his return late last month. However, his comeback barely translated to wins for the team (1-5), prompting head coach Nate McMillan to contemplate calling his number to start, expecting him to hit the ground running right at the onset of every game after the break.
Eric Woodyard of ESPN said McMillan will ponder on the adjustment as he quoted the bench tactician, "We'll look at how he's (Oladipo) playing and how he's feeling and adjust his role if need be."
Rust has certainly bugged the former All-Star as he is averaging 10.8 points, 1.8 rebounds, and 2.7 assists while shooting 29.5 percent from the field, 23.1 percent from deep and 83.3 percent from the free-throw line since his return. The Pacers, who are currently sixth in the East (31-23), have lost six straight games entering Wednesday's match against the NBA's top team Milwaukee Bucks.
Despite the struggles, Olapido keeps his faith in the process as he intends to drop the hammer approaching the homestretch of the regular season.
"I missed a whole year of NBA basketball, not just basketball. It's the highest level of basketball. It's different," Oladipo told ESPN's Royce Young. "I'm not frustrated at all. Because I've been on the court and made all those shots that I'm shooting. I know I can make 'em. It's just a matter of syncing my body and my mind."
In 36 games played before the devastating injury last year, Oladipo had averaged 18.8 points, 5.6 rebounds, and 5.2 assists on 42.3 percent shooting from the floor and 34.3 percent from the beyond the arc, enough to earn him his second-straight All-Star selection.
It was in the 2018-2019 season – his first year with the Pacers – that the former second overall draft pick hit his strides in the NBA. After a short stint in Oklahoma City in 2017, Oladipo instantly became the main man in Indiana as he hoisted 23.1 points, 5.2 boards, 4.3 assists and a league-best 2.4 steals while shooting 47.7 percent from the field and 37.1 percent from way out, en route to being named the Most Improved Player of the season on top of his first All-Star citation and inclusion in the NBA All-Defensive Team.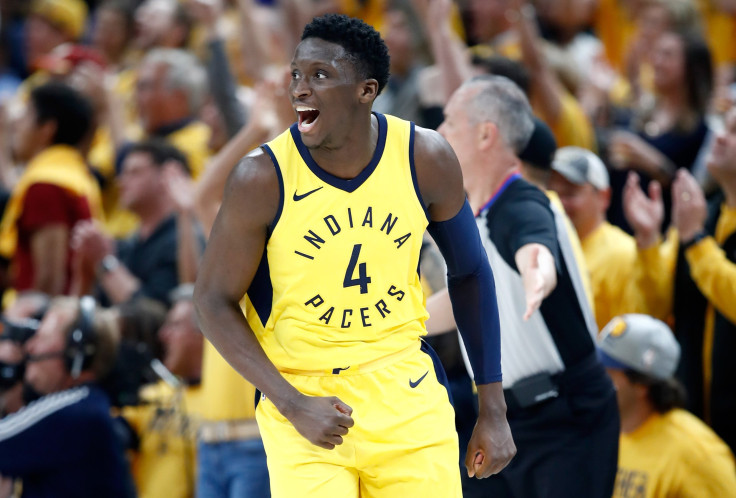 © Copyright IBTimes 2023. All rights reserved.