NBA International Players 2014: How Foreign-Born Stars Adjust To Living And Playing In America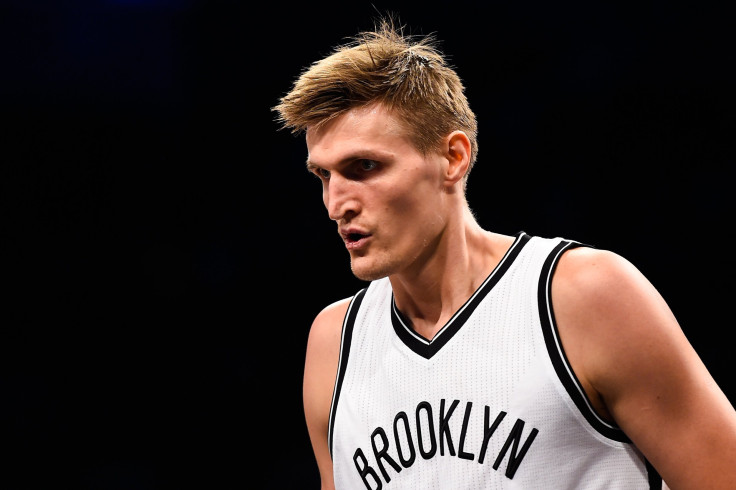 Russian-born basketball player Andrei Kirilenko still remembers his first time driving on an American highway. He was 20 years old and battling culture shock after moving from one of Russia's largest cities to the conservative Mormon community of Salt Lake City, where he played for the NBA's Utah Jazz. The police officer who pulled Kirilenko over for speeding made it abundantly clear that he wasn't in Moscow any more.
"I was going over the limit, not much, but just a little bit. I got stopped by the police officer, and you know, in Russia, it used to be you'd get out of the car, you'd talk to the officer and you'd just [pay your ticket]. But here, you stay in your car, you're not allowed to give any money to the officers. It's way different, so sometimes you get into those situations," Kirilenko said.
Adapting to the rules of the road was just part of the struggle. After growing up in St. Petersburg and living in Moscow – two of the world's most populous locales – Kirilenko found himself in a city of less than 200,000 people. Every aspect of daily life, from fostering new friendships to figuring out where to grab a beer, was a new hurdle. He had played basketball throughout Russia and Europe by his late teens, but had never lived outside the motherland. "My first month, I didn't know what to do," he said.
The struggle to assimilate is constant in a league increasingly composed of young, foreign-born players. In 2001, Kirilenko was one of 52 international players featured on opening-day NBA rosters. By the start of the 2014-15 NBA season, that number had nearly doubled to a record 101 foreign-born players. These players are tasked with playing top-flight basketball in the world's most competitive league, often without a firm grasp of the English language or the presence of their families.
The NBA has an overt financial incentive for global expansion, with potentially billions of dollars in new revenue at stake in markets stretching from Africa to China. The successful assimilation of the league's international roster is a less visible, but equally crucial element of that overseas movement. League and team executives work to provide language services, dietary consultation and logistical support for young men who excel at the game but do not know how to live on their own in North America.
Despite the league's efforts, some individuals never acclimate to living and playing in their adoptive country. A player who once logged big minutes for his club team in Russia or his international team in Germany may not accept the notion of being a role player in a random American city. Foreign-born prospects who once floored NBA front office executives with their exploits in pre-draft workouts and native leagues find themselves relegated to the end of the bench. Some players, like former New York Knicks draft pick Frederic Weis, never make it into an NBA game at all, whether by their choice or due to dissatisfaction from management.
The transition can be difficult partly because many international players enter the NBA without the life experience afforded by years of playing high-level club basketball. Some players never leave their home countries until the day they are drafted into the NBA. A few are teenagers who have never had to cook for themselves. There's often a lack of understanding about the most basic aspects of daily life in their new country, which leads to situations like Kirilenko's run-in with highway patrol.
"I Don't Know How To Buy Sheets"
German-born Atlanta Hawks guard Dennis Schroder once found himself in a similar jam, said Alex Saratsis, a player agent with international sports and entertainment representation firm Octagon. Schroder thought his international driver's license qualified him to drive in America and used it for about a year, until a police officer pulled him over and instructed him that his driving days were over until he obtained the proper documentation.
For more than a decade, Saratsis has specialized in the "import and export" of international basketball players to and from the United States and all the daily minutiae the process entails. In addition to mainstream NBA names like Sacramento Kings forward Rudy Gay, Saratsis represents a stable of foreign-born players in the league, including Greek-born Milwaukee Bucks prospect Giannis Antetokounmpo.
NBA scouts salivate over Antetokounmpo's talent. Blessed with a 6-11 frame and a 7-foot, 3-inch wingspan, "The Greek Freak's" combination of rare athleticism, defensive range and ball skills prompted the Milwaukee Bucks to select him with the 15th pick in the 2013 NBA Draft.
But the jump from a second-tier Greek basketball league to life as an NBA player in America was not easy. Antetokounmpo was an 18-year-old kid who had never before left his home country and spoke very little English. For the first time, he was away from his family, with Saratsis and Bucks management serving as his only lifeline. Saratsis worked with the Bucks to set up basic infrastructure and enroll the teenager in English classes.
"The NBA is a very lonely league if you don't have people around you. Imagine as an 18-year-old kid, you've been away for three or four days, five days, and you come home and you're exhausted and you don't have anyone to come home to," Saratsis said.
Marooned in a strange country, Antetokounmpo devoted himself utterly to basketball. He'd spend hours in the gym honing his craft, partly out of dedication, partly to avoid sitting in an empty apartment. When hungry, most teenagers eat their parents' cooking or scarf pizza rolls. Antetokounmpo didn't know how to cook or find food on his own in Milwaukee, so Saratsis and the Bucks coordinated to ensure he had proper meals and nutrition. His lack of practical experience manifested in other ways, too.
"I remember at one point about two weeks into him being in his apartment, I walked into his house and said 'hey, where are your sheets?'" Saratsis said. "He was like, 'I don't know how to buy sheets.' Those are little things you don't think about. Growing up the way he grew up, sheets were not a big deal. He would just sleep on a mattress with no sheets."
The Bucks took steps to help Antetokounmpo feel at home. Team general manager John Hammond would invite him over to eat dinner and hang out with his kids. Before long, he grew close with a young Bucks video coordinator named Ross, who lived in his apartment complex. The pair would play video games together and eat at local restaurants. Antetokounmpo's social circle slowly grew, and his comfort level with it.
Hiring English Tutors Is The Easy Part
NBA Basketball Operations' international division is responsible for ensuring foreign-born talents have the logistical support they need to function in America. The office acts primarily as a safety net, liaising with NBA teams and government offices to secure the proper work visas and documentation such as driver's licenses and Social Security cards.
Internationally focused staffers conduct a seminar during the league's annual Rookie Transition Program to brief international rookies on the daily life of an NBA player. Players are primed on financial commitments, game scheduling, and the rigors of life on the road and away from loved ones. It's the first stage of one of the international office's chief programs – Senior Vice President Kim Bohuny and Vice President Brooks Meek fly out to all 30 NBA teams for individual and group meetings with international players, newcomers and 15-year veterans alike.
For younger players, these conversations are rooted in the immediacy of daily adjustment to life in America. As players progress in their careers, the focus shifts to broader themes, like charity work, the pursuit of goals for life after basketball and discussions on what players can do for their home nations. "You're almost doing an individual player plan to help them with all facets of what they're doing within the NBA," Meek said.
However, the day-to-day legwork of helping foreign-born players live comfortably is left to the teams, multiple individuals connected with the process said. Addressing obvious needs, like hiring English tutors and setting up housing and car rentals, are considered the easy part.
At times, it's an international player's spouse or girlfriend who struggles most with the transition to life in America, said Randy Brown, assistant general manager for the Chicago Bulls. Whatever his concerns off the court, a player can take their stress out during practice. But significant others are often left without an outlet.
"The player is around something that he loves," Brown said. "He's around basketball, he's around his teammates, while the wife or girlfriend is in a place where she's never been before and home alone a lot. I think it's tougher for the wife or spouse than it is for the players."
The Bulls devote resources to ensure a player's family is equally involved in programs designed to meet their needs. Wives and girlfriends are included in the acclimation process and aided in their attempt to integrate with their new city.
The Minnesota Timberwolves have enacted a similar player development program, said team general manager Milt Newton, former assistant director of USA Basketball. A team of officials help players and their families find neighborhoods within their city where they can eat their native cuisine and speak their native language. For players with young children, the team assists in the obtainment of proper housing and enrollment at choice schools.
Aside from family concerns, navigation of the language barrier both on and off the court can be a major source of stress for foreign-born players. English tutors and classes help, but even someone who has played basketball his entire life in his native country can struggle to pick up NBA terminology. A player with limited language skills has to understand a coach's instructions in English, process them in his native language, then respond in English – all within the time-sensitive confines of a free-flowing practice.
"That itself is worrisome for some players because this is a game where it became second instinct. When you're going to a different team, different language, in a sense, your communication is no longer second instincts," Newton said.
Not Everyone Can Make It Big Overseas
Past NBA drafts are littered with the cautionary tales of international players who couldn't adjust to the American game. One prominent example is Darko Miličić, a 7-foot, 275-pound Serbian prospect who presented both a shooter's touch and an inside presence in workouts. The Detroit Pistons selected Miličić with the second pick in the 2003 draft, ahead of future perennial All-Stars Carmelo Anthony and Dwyane Wade. Later that year, he became the youngest international player ever to appear in an NBA game.
But Miličić never made an impact, averaging less than seven minutes per game in each of his first three seasons. "It's been worse because I was expecting to play," he said in 2005. "I've said it 10,000 times, the best way for me to improve is to play. All the work in practice and individual workouts can only help me so much."
Miličić bounced around from team to team and eventually developed into an adequate bench player, but never lived up to his billing as second-overall draft pick. Now retired, he is routinely listed as one of the worst draft busts of all time.
Georgian product Nikoloz Tskitishvili, a fellow 7-footer, endured a similar downfall. Dubbed by ESPN's Bill Simmons as "the worst-case scenario for any foreign pick," the fifth overall pick in the 2002 draft lasted just four years in the league and averaged less than three points per game. He returned overseas and has played there ever since.
For some, all the team-cooked meals and league-sponsored seminars in the world just can't stand in for the comfort afforded by playing at home, with native basketball terminology and styles of play. "A lot of times it comes down to players maybe not being patient, learning or developing this style of basketball, and they would rather just go back and be happy playing over in Europe," Newton said.
© Copyright IBTimes 2023. All rights reserved.