NBA: Lakers' Summer Signing Labeled 'Huge Asset' For 2019-20 Season
Klay Thompson re-signed with the Golden State Warriors and admitted that he was humbled by their five-year $190 million offer. The shooting guard also made it clear that he had no intentions of leaving the Bay Area team, where he has won three NBA titles and made it to five straight finals.
Thompson, however, believes the Los Angeles Lakers have got the bargain of the offseason after they landed four-time NBA All-Star DeMarcus Cousins on a one-year $3.5 million contract. The Warriors star is certain Cousins will be one of the top players for the Lakers in the upcoming campaign and is sad that he left the Warriors after just one season.
The 28-year-old center spent the 2018-19 campaign with the Warriors but missed their first 45 games as he was still recovering from the Achilles injury he suffered at the beginning of 2018 when he was with the New Orleans Pelicans. He played 30 regular season games averaging 16.3 points and 8.2 rebounds while playing 25.7 minutes per game.
Cousins again suffered a quad injury at the start of the playoffs and only returned for the NBA Finals against Toronto Raptors and despite impressing in a couple of games, he was unable to stop the Warriors from going down in six games. Thompson credited the center's decision-making skills and is certain he will once again show why he is one of the best in the league.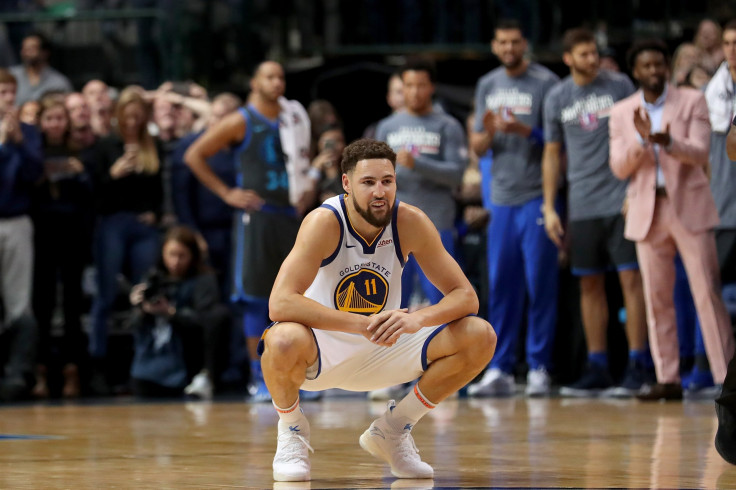 "DeMarcus is a great teammate and I developed such a great chemistry with him, coming off screens and cutting off from posts," Thompson told the Los Angeles Times during a recent interview. "I'll miss him. I know he's going to be a huge asset for the Lakers. When they slow it down, he's so good on the block and such a great decision-maker."
"People don't realize what a great decision-maker he is. Above all, I love his will to compete. He was very hurt last year during our Finals run but he was still out there making a huge impact and getting double-doubles and he won us a couple games, honestly."
"He's just such a gamer and I'm going to miss competing with him. L.A. got a very good player, who's very hungry. I know he's eager to get out there and show everybody he's still one of the best players in the world because he has all the talent," he added.
Cousins' recent injury record hampered his chances of landing a long-term contract while also not generating too much interest from other NBA franchises. But if he recaptures his best form in 2019, he is certain to land a lucrative long-term deal when he enters free agency again next summer.
© Copyright IBTimes 2023. All rights reserved.