NBA: Los Angeles Lakers' Advantage Over Giannis Antetokounmpo, Milwaukee Bucks Revealed
KEY POINTS
The Lakers are predicted to defeat the Bucks in a seven-game Finals series
Giannis Antetokounmpo and the Bucks held the best record in the NBA prior to the suspension
The experienced Lakers have better weapons to win a grueling series
Save for the pandemic which caught the league off guard – and even lead to its suspension – the 2020 NBA Season has mostly been about the Los Angeles Lakers, the Milwaukee Bucks, and their sub-stories, including a potential grudge match in the Finals.
While the Bucks seized ascendancy at the top of the overall standings prior to the hiatus, the LeBron James-led Lakers are still being projected to hold the edge over Giannis Antetokounmpo and his crew.
Jason Reed of the Lake Show Life jotted down three primary reasons why the Lakers would beat the Bucks, and it simply boiled down to one major point: experience.
A major part of it is certainly because James has headlined the NBA Finals eight times in the last nine years, while the likes of Danny Green, Rajon Rondo, Quinn Cook, and JaVale McGee each have also experienced stepping at the podium touching the Larry O'Brien.
"The Los Angeles Lakers are not experienced in every area of the roster, but the team does have a lot of valuable NBA Finals experience that the Milwaukee Bucks simply don't have," Reed wrote.
"Although this year is a bit different as there is a hiatus and the Finals will be played a neutral site with no fans, the experience of how to handle yourself when the pressure is at an all-time high is still important and widely favors the Lakers."
Moreover, it is also believed that Frank Vogel has better tools in his box that are fit for a grueling playoff series against the Bucks, who, on the flip side, heavily rely on the Greek Freak's exploits.
"The Milwaukee Bucks have a rather simple gameplan that works really effectively; give the ball to Giannis and let him drive and either terrorize opposing defenders or kick it out and hit an open shooter. The Bucks have surrounded him solely with shooters and that has been a great strategy," Reed added.
"The Lakers have more weapons in their arsenal. They have the shooters to keep up with the Bucks and have the best facilitator in the league in LeBron James to capitalize on that. They also have the size to dump off to as well, something that LeBron has always made a habit in his career."
Although it is likely to happen, there is still no guarantee that the dream Finals showdown will take place. Basically, the rest of the NBA still waits for Commissioner Adam Silver's official announcement with regards to the resumption of the season.
Should it be given the green light, teams will still have to go through another series of hurdles, including a modified playoff format that could reshape the path going to the championship round.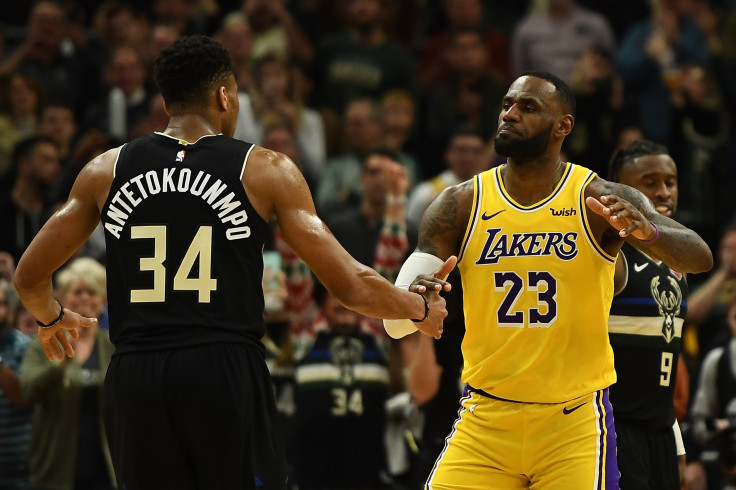 © Copyright IBTimes 2023. All rights reserved.
FOLLOW MORE IBT NEWS ON THE BELOW CHANNELS