NBA-MGM $25 Million Betting Partnership: What Are The Possible Impacts?
NBA commissioner Adam Silver announced Tuesday the league had signed a deal that will make MGM Resorts theirs as well as the WNBA's exclusive official gaming partner.
It is a move that sees the NBA become the first major United States league to partner with a sportsbook operator in the midst of the Supreme Court ending the federal ban on sports gambling in May.
According to reports, it is a three-year deal worth $25 million and Silver believes it will give MGM the edge over their competitors as sports betting looks set to become a staple for the average American fan, with New Jersey and Delaware taking advantage of the new ruling, while other states such as Mississippi, West Virginia, Pennsylvania are expected to follow.
But what exactly does the partnership encompass and what will effect will it have?
MGM will be able to use official NBA content
As part of the agreement, MGM will receive the rights to use NBA highlights, logos as well as a direct data feed, giving them authenticity and allowing them to deliver the best user experience for its consumers on their betting app.
The direct data feed in particular is expected to be promoted by both partners in an effort to enhance the live betting product. Given the rise of micro data and analytics information, more in-game betting is expected in the future as is the case in the United Kingdom.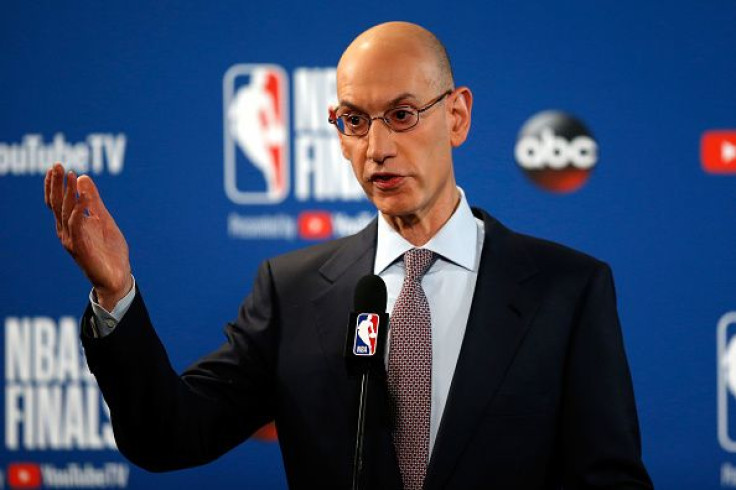 The NBA and MGM will share data
The new partnership will see the NBA and MGM share data which will lead to many benefits.
As per Sports Illustrated's Michael McCann, the sharing of data allows the NBA to disclose valuable and sometimes proprietary information about NBA players with MGM.
"That operator [MGM], in turn, will use this new information for a variety of purposes," McCann explained. "One likely purpose is to diminish incongruities between different sources of player and team data used by MGM. Another potential purpose entails MGM configuring more advantageous betting lines."
The NBA, meanwhile, will benefit from an integrity standpoint from the "anonymized real-time data" MGM will provide them with.
"This type of data will reflect player and team performance, and will be shared only after removal of any identifiable markers about relevant players and teams," McCann wrote. "The anonymized feature should help to safeguard player and team privacy."
McCann uses the example of Tim Donaghy, a former NBA referee who bet on the games he officiated from 2005-2007, stating how if this data was present back then, the league could have used it to detect discrepancies as well as suspicious statistical phenomena connected to those affiliated with the NBA.
The deal also allows the NBA to receive a much-desired integrity fee, a percentage of revenue generated from bets given to the league, though it is still being discussed as per Silver.
In turn, they could use part of these fees to "spend more resources on compliance, monitoring and investigation of potential irregularities" that would arise from bettors attempting to influence the outcome of games for example.
"The deal gives the NBA several of the key integrity protections that the league has been seeking legislatively," sports gaming attorney Daniel Wallach told Sports Illustrated. "Most importantly, the deal provides the NBA with 'real-time' access to MGM's account-level betting transactions [on an anonymized basis], which will enable the league to more effectively monitor the betting activity."
"Having such access has long been part of Adam Silver's vision in monitoring the betting markets like a stock exchange and serve as an 'early warning' system for suspicious wagering activity."
Teams and players can benefit financially
If the NBA stands to financially benefit from sports betting, teams and players will no doubt be keeping an eye on the latest developments as well.
Integrity fees would count as "basketball related income" (BRI) and as part of the collective bargaining agreement, both team owners and players would stand to benefit, with the current BRI split being 51-49 in favor of the owners.
A higher BRI would result in a higher salary cap, allowing teams to sign more players while players can get even bigger paydays.
In the end, however, a $25 million deal pales in comparison to other deals the NBA has recently made. MGM is the NBA's exclusive gaming partner, but the deal is non-exclusive, meaning the league can sell its data and brands to other competitors.
And if that is the case, given the popularity of basketball betting in Nevada alone with $1.5 billion bet in 2017, there will be a considerable surge in revenue.
© Copyright IBTimes 2022. All rights reserved.
FOLLOW MORE IBT NEWS ON THE BELOW CHANNELS