LeBron James Discusses Kawhi Leonard, Paul George Not Joining Lakers
LeBron James is happy to be with the Los Angeles Lakers, even if it means playing without the duo of Kawhi Leonard and Paul George.
Before James opted out of his Cleveland Cavaliers contract, it was expected that the Lakers would pursue him as their number one target. In addition to the 33-year-old, the Lakers were also pursuing Los Angeles natives Leonard and George with the hope of creating the next big super team capable of challenging the Golden State Warriors.
However, it wasn't to be as despite the Lakers signing James to a four-year contract, the San Antonio Spurs demanded too many assets for Leonard who had a year remaining on his deal. The 28-year-old would eventually be traded to the Toronto Raptors where he will become a free agent in 2019.
As for George, he was expected to be a Laker even more so, as like James, he opted out of his Oklahoma City Thunder contract to become a free agent.
But after a change of heart, George surprisingly decided to sign a new deal with OKC after growing fond of the city and franchise while feeling he had unfinished business there after a disappointing 2017/18 season.
That left James joining a young Lakers side as the only All-Star in a team that has since been stockpiled with seasoned veterans on one-year deals such as Lance Stephenson, Rajon Rondo, JaVale McGee and Michael Beasley.
When asked in an ESPN interview on Monday why he was willing to come to the Staples Center without making a demand for Leonard to join him, James claimed he is happy with the roster as well as the changes the franchise has made to return to their old glories this upcoming season.
"Because I love the young guys that they have, and I'm not trying to force my hand in no way, shape or form," James said. "I believe Rob [Pelinka] and Magic [Johnson] and Jeanie [Buss] have done an unbelievable job of reshaping what the organization should be, keeping Dr. Buss' dreams and what he was all about, to keep that going."
"I feel like they know what's best for the team and I wanted to be a piece to continue that motion of being back to a championship franchise where they should be," he said.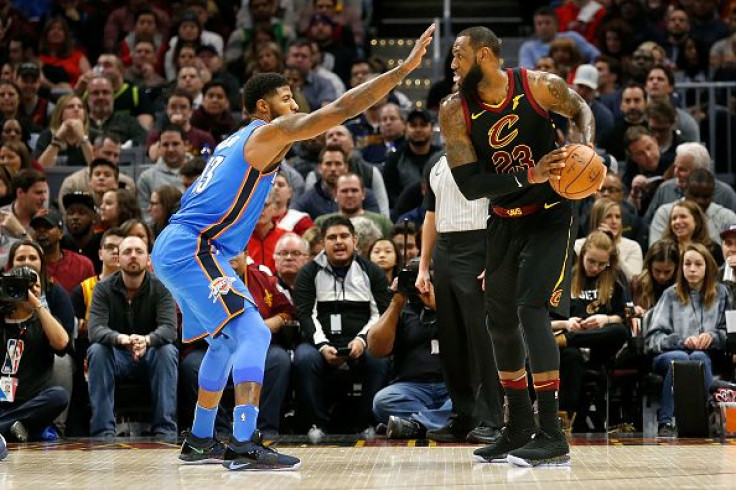 The Akron native also says he did not have many conversations with George about the duo potentially being teammates next season in Los Angeles. Instead, James is happy that George did what was best for him and his family.
"I didn't have many conversations with Paul, and I think Paul did what was best for him," he added. "And I think that's what everybody should do as players, they should do what's best for them and their family."
"You shouldn't get too pressured by anybody. If there's somebody they want to play with, and they have the opportunity to do it, then go for it. I think we all see that he made the best decision for himself and his family," James said.
While George is likely out of the Lakers picture after signing a four-year deal, Leonard could still become a Laker next year when he becomes a free agent.
The question remains however, whether he still wants to play with James after reportedly no longer having a preference to play second fiddle to the three-time NBA champion.
© Copyright IBTimes 2023. All rights reserved.
FOLLOW MORE IBT NEWS ON THE BELOW CHANNELS