NBA: Milwaukee Bucks' Star Player Giannis Antetokounmpo Joins Elite Club
Giannis Antetokounmpo of Milwaukee Bucks became the fourth player to record 50 points, 10 rebounds and not commit a single turnover in a game since the turnovers became official in 1977-78 National Basketball Association (NBA) season.
The small forward joined Carmelo Anthony, Moses Malone and Michael Jordan (twice) as the only other players to have clinched the feat.
Antetokounmpo bagged the record during Buck's 122-118 victory over Utah Jazz on Tuesday at the Fiserv Forum stadium in Milwaukee. The 24-year-old Greek player had everything in control against Jazz as he made his way to buckets and thunderous dunks.
Antetokounmpo made 17 of his 31 field-goal attempts, including 3 of 8 from deep and 13 of 19 from the foul line as he added 14 rebounds and six assists and all without carrying out a single fault. Through 17 games, Antetokounmpo had had at least two turnovers in each game since the start of the 2019-20 campaign and five or more turnovers in seven of those outings.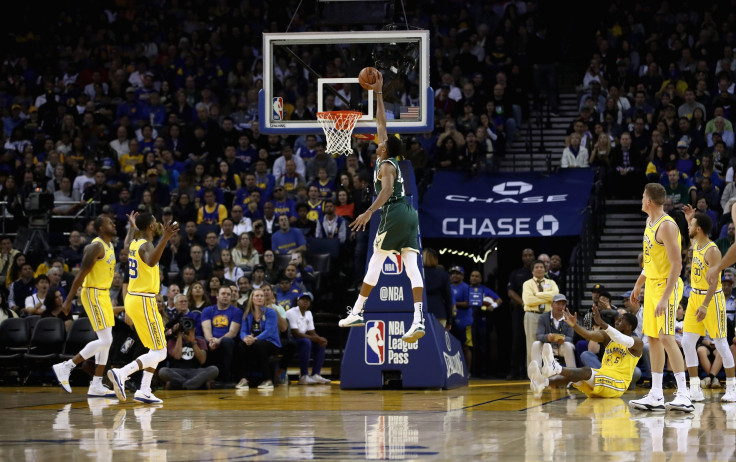 The Bucks star also recorded 17th consecutive double-double since the start of the season - the longest streak since Bill Walton achieved it during the 1976-77 season, in which his Portland Trail Blazers won the NBA championship trophy.
The season-high and fault-free 50 points have reinforced Antetokounmpo's campaign for the Most Valuable Player (MVP) award as his current season's turnover average is 4.3 per game. After 17 matches so far this season, Bucks are table-toppers with a 14-3 record in the Eastern Conference, while the Western Conference still has the Los Angeles Lakers on the top.
The Lakers bagged yet another win in NBA on Tuesday when they defeated San Antonio Spurs 114-104.
Their star player, LeBron James, scored 33 points and recorded 14 assists, while Anthony Davis chipped in toward the end to finish with 19 points and 12 rebounds to ensure Lakers with 15-2 now have the best record in the league.
© Copyright IBTimes 2023. All rights reserved.