NBA News: Injury Bug Bites Lakers 'Microwave' Scorer Ahead Of New Season
KEY POINTS
Monk's injury shows the Lakers may see some young players being sidelined next season
Vogel may keep Monk after an impressive NBA preseason showing
Monk is in for a hard grind to prove he deserves a spot on the team
The ability of the Los Angeles Lakers to ensure that their players are healthy is a highlight among pundits this season.
As of this writing, the number of players suffering injuries is slowly piling up.
After getting word that Trevor Ariza would be out for at least two months, a couple of Lakers have joined the one-time champion on the sidelines.
According to the latest updates, Talen Horton-Tucker and Malik Monk are sidelined with both suffering respective injuries.
Horton-Tucker is dealing with a right thumb injury, while Monk is out with a groin injury.
Of the two, it appears the case of Monk is more serious and telling. For one, he is one of the new faces on the Lakers' fold and vying for a final roster spot.
Before that injury, the 23-year-old guard had been making waves. He showed Lakers coach Frank Vogel that he can be a source of firepower, a reason why he has now been christened the "microwave."
Vogel already had something in mind as far as the 6-foot-3 guard is concerned. He mentioned that Monk would not be a full-time point guard, pointing out his offensive versatility.
"I wouldn't put him as a full-time point guard, but you can run certain actions where he's initiating for you, he's comfortable with his handles. So his offensive versatility is probably what sticks out the most," Vogel said.
But this is with the understanding that Monk makes the final roster. His groin injury may put a damper on all that.
Several players are vying for a spot in the Lakers' final roster for the 2021-22 season. Considering Los Angeles already has the likes of Russell Westbrook, Wayne Ellington, Kent Bazemore, Kendrick Nunn and Rajon Rondo, the injury could be a big bummer for the 11th overall pick of the 2017 NBA Draft.
Then again, the injury could be viewed as a good thing. After already showing what he can do, Monk is also a young player who is worth keeping.
He is expected to be out for two weeks at the least, depending on how well he heals.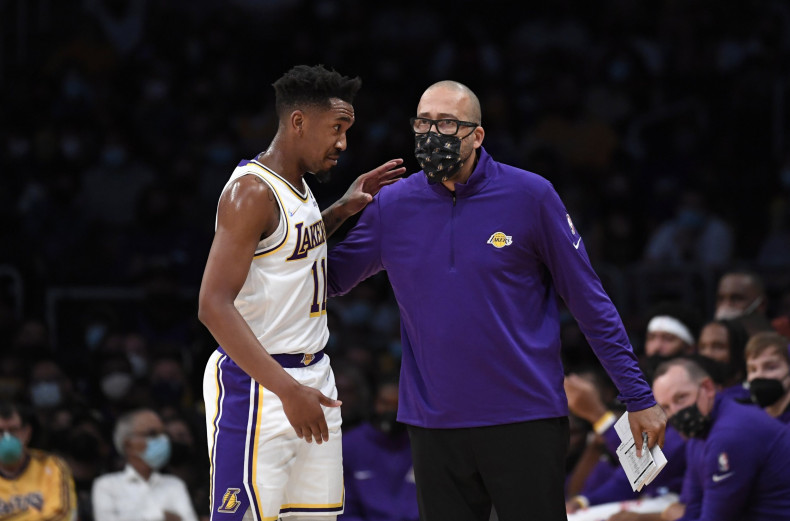 © Copyright IBTimes 2022. All rights reserved.