NBA News: League Looks To Stop Flopping With New Rules For Next Season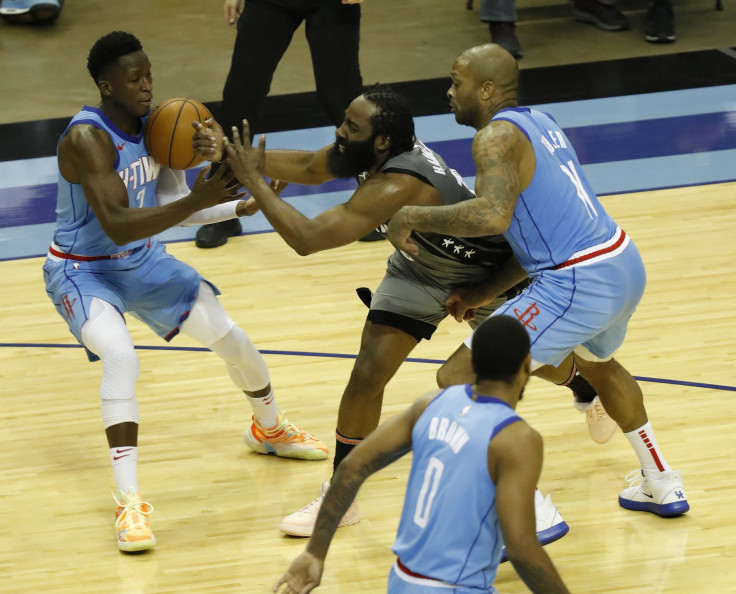 KEY POINTS
Shams Charania reports that the NBA is looking to put a stop to flopping
Players have become increasingly reliant on fishing for fouls on the offensive end
The new rules help players in being able to defend without getting into foul trouble
As the Eastern and Western Conferences are in their early stages, senior lead NBA insider Shams Charania dropped a Twitter bomb in the middle of the day.
The changes come after the league has seen an increase in players being able to draw fouls with ease regardless of the defender's action that could actually impede the shooter's ability to sink in the ball.
Guys like James Harden, Marcus Smart, Joel Embiid and Trae Young are but some of the current generation's most notorious floppers.
Meanwhile, some of the NBA's greatest players are guilty of helping the trend spread. LeBron James, Manu Ginobili and Chris Paul have all been complicit in making flopping a thing.
The problem here is that the pace of the game is being slowed considerably to the point that players are able to rack up 30 to 40 points with ease, thanks to shooting around 10 to 15 free throws in a game.
Charania also tweeted that NBA referees will also be undergoing more training for better implementation of the new rules.
The rule hopes to prevent players from fishing for a foul on most possessions as it does tend to slow down the pace of the game and it becomes a battle of who can make the most out of their free throws.
Of the three points that Charania mentioned that the one about the shooter kicking his leg out at an abnormal angle is what most fans will gravitate towards as they have seen the league's greats become more and more reliant on kicking their legs out in the hopes of drawing a whistle.
Harden, Draymond Green, Steph Curry, Chris Paul and Young are the usual suspects when it comes to drawing fouls by kicking their legs out from time to time.
This has been a long time coming, not just for players, but most especially for the fans since they deserve a product that allows players to showcase their ability to defend without fear of being baited into fouls most of the time.
© Copyright IBTimes 2023. All rights reserved.