NBA News: Los Angeles Clippers Star Paul George's Game 7 Speech Annoyed His Teammates
KEY POINTS
The Denver Nuggets erased a 3-1 series deficit to eliminate the Los Angeles Clippers
L.A.'s Paul George gave a speech inside the team locker room after the season-ending loss
Some members of the Clippers did not take the speech well
A season-ending defeat for the Los Angeles Clippers prompted Paul George to speak like a leader inside their locker room. However, the speech was reported to have flopped and was met with eye rolls from some members of the team.
After the Denver Nuggets shocked the NBA to complete another 3-1 series comeback, the Clippers were labeled as one of the biggest chokers in the league. The collapse saw Doc Rivers' squad waste multiple 16-point leads in the series.
While George had the intention to rally his team after the painful loss, it was reported that his words were not well received.
"In the postgame locker room Tuesday night, George was preaching to teammates to remain committed, for all the players to return to the team this offseason and stay ready to make another run. It was met by some eye rolls and bewilderment, sources said, because George did not back up his words with action in the series and the team has multiple free agents with decisions to make," Shams Charania of The Athletic reported.
The Clippers were among the favorites to win the NBA Championship this year when they signed Kawhi Leonard and George in the offseason. The superstar duo was expected to lead the Clippers to their first conference finals in franchise history.
One of the biggest stories of the Clippers' Game 7 loss was how Leonard and George were absent in the final quarter of the series. The pair did not tally a single point and missed a combined 11 shots.
The $145 million value of George was one of the biggest deals prior to the season. Getting the six-time All-Star to play for the Clippers involved trading away Shai Gilgeous-Alexander, Danilo Gallinari and their first-round draft picks in 2022, 2024 and 2026, along with two first-round choices via Miami in 2021 and 2023.
While many fans were expecting the Clippers at make the Western Conference Final against the crosstown Lakers, the Nuggets crashed the all-L.A. party with the upset. The Lakers hold a 2-0 lead over the Nuggets in the best-of-seven series, with Game 3 set for Tuesday night.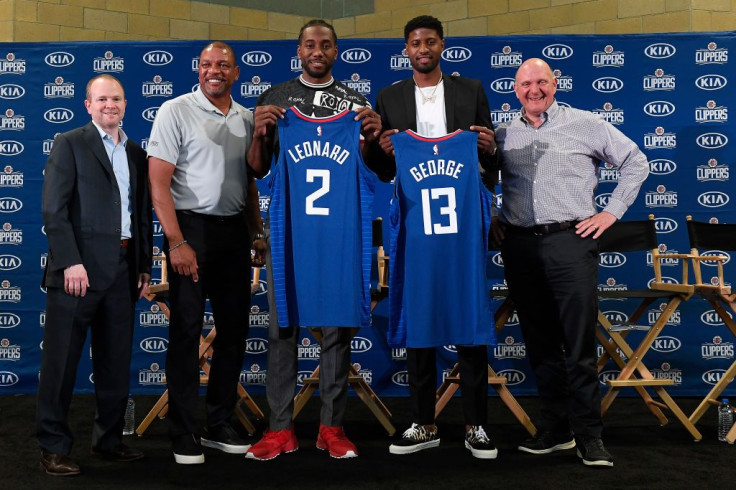 © Copyright IBTimes 2023. All rights reserved.