NBA Playoffs 2012 Schedule: First Round Matchups, Dates, Times And Where To Watch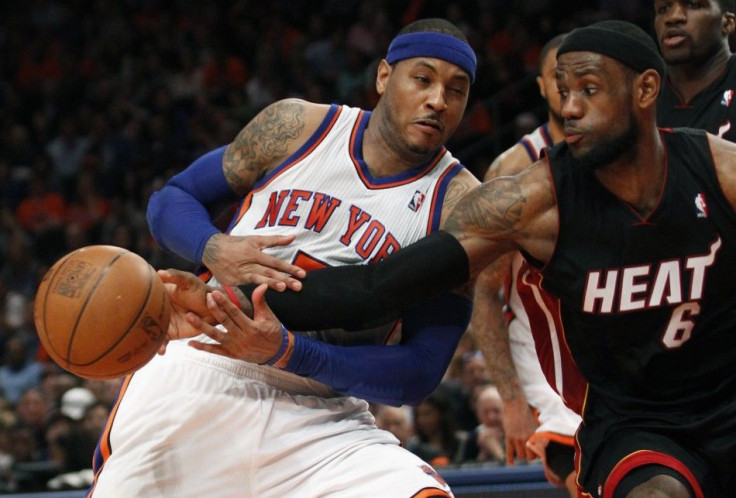 The compressed 66-game NBA season has finally come to a close.
The Dallas Mavericks will face a tough test defending their title as the seventh in the Western Conference first round against the Oklahoma City Thunder, a team many feel can win it all. The Thunder beat the Mavericks 3-1 in their regular season series matchups. Nevertheless, the former may be without the services of Sixth Man of the Year favorite James Harden, who suffered a concussion because of a vigorous elbow thrown by Los Angeles Lakers forward Metta World Peace on Apr. 22.
Also in the Western Conference, the Los Angeles Clippers are looking to make some noise after a five-year playoff absence. They will face the Memphis Grizzlies, who made some noise of their own last postseason by knocking out the one-seeded San Antonio Spurs, followed by going all the way to Game 7 with the Thunder in the conference semis. This time around, though, the Grizzlies will have Rudy Gay healthy to play alongside Zach Randolph and Marc Gasol in an effort to stop Blake Griffin, Chris Paul and company.
As for the Eastern Conference, all eight teams that made last year's playoffs return, and aside from the top seed Chicago Bulls and second seed Miami Heat, all are differently seeded. The marquee matchup looks to be the Heat against the seventh seeded New York Knicks, who have played winning basketball under interim head coach Mike Woodson. Carmelo Anthony, who scored a whopping 29.8 points per game in April will duel MVP candidate LeBron James to try and pull off the upset, which some believe the Knicks have the talent to do.
Whichever team wins that matchup will face the winner of the Indiana Pacers and Orlando Magic in the semifinals. The Pacers have become the team no one is talking about despite being the third seed in comparison to last postseason when they were eighth and gave the top-seeded Bulls a run for their money. And if there is any team the Pacers want to face, it's probably the Bulls, not the Magic, the Heat or the Knicks.
Here are the first round matchups, dates, times and where to watch, courtesy of the NBA:
EASTERN CONFERENCE
Chicago vs. Philadelphia
Game 1 - Sat. April 28, Philadelphia at Chicago, 1 p.m., TNT
Game 2 - Tue. May 1, Philadelphia at Chicago, 8 p.m., TNT
Game 3 - Fri. May 4, Chicago at Philadelphia, 8 p.m., ESPN
Game 4 - Sun. May 6, Chicago at Philadelphia, 1 p.m., ABC
Game 5 * Tue. May 8, Philadelphia at Chicago, TBD
Game 6 * Thu. May 10, Chicago at Philadelphia, TBD
Game 7 * Sat. May 12, Philadelphia at Chicago, TBD, TNT
* if necessary
Miami vs. New York
Game 1 - Sat. April 28, New York at Miami, 3:30 p.m., ABC/ESPN Radio
Game 2 - Mon. April 30, New York at Miami, 7 p.m., TNT
Game 3 - Thu. May 3, Miami at New York, 7 p.m., TNT
Game 4 - Sun. May 6, Miami at New York, 3:30 p.m., ABC/ESPN Radio
Game 5 * Wed. May 9, New York at Miami, TBD
Game 6 * Fri. May 11, Miami at New York, TBD
Game 7 * Sun. May 13, New York at Miami, TBD
* if necessary
Indiana vs. Orlando
Game 1 - Sat. April 28, Orlando at Indiana, 7 p.m., ESPN
Game 2 - Mon. April 30, Orlando at Indiana, 7:30 p.m., NBA TV
Game 3 - Wed. May 2, Indiana at Orlando, 7:30 p.m., NBA TV
Game 4 - Sat. May 5, Indiana at Orlando, 2 p.m., ESPN
Game 5 * Tue. May 8, Orlando at Indiana, TBD
Game 6 * Fri. May 11, Indiana at Orlando, TBD
Game 7 * Sun. May 13, Orlando at Indiana, TBD
* if necessary
Boston vs. Atlanta
Game 1 - Sun. April 29, Boston at Atlanta, 7 p.m., TNT
Game 2 - Tue. May 1, Boston at Atlanta, 7:30 p.m., NBA TV
Game 3 - Fri. May 4, Atlanta at Boston, 7:30 p.m., ESPN2
Game 4 - Sun May 6, Atlanta at Boston, 7 p.m., TNT
Game 5 * Tue. May 8, Boston at Atlanta, TBD
Game 6 * Thu. May 10, Atlanta at Boston, TBD
Game 7 * Sat. May 12, Boston at Atlanta, TBD, TNT
* if necessary
WESTERN CONFERENCE - FIRST ROUND
San Antonio vs. Utah
Game 1 - Sun. April 29, Utah at San Antonio, 1 p.m. ET, ESPN
Game 2 - Wed. May 2, Utah at San Antonio, 7 p.m., TNT
Game 3 - Sat. May 5, San Antonio at Utah, 10 p.m., TNT
Game 4 - Mon. May 7, San Antonio at Utah, TBD
Game 5 * Wed. May 9, Utah at San Antonio, TBD
Game 6 * Fri. May 11, San Antonio at Utah, TBD
Game 7 * Sun. May 13, Utah at San Antonio, TBD
* if necessary
Oklahoma City vs. Dallas
Game 1 - Sat. April 28, Dallas at Oklahoma City, 9:30 p.m., ESPN
Game 2 - Mon. April 30, Dallas at Oklahoma City, 9:30 p.m., TNT
Game 3 - Thu. May 3, Oklahoma City at Dallas, 9:30 p.m., TNT
Game 4 - Sat. May 5, Oklahoma City at Dallas, 7:30 p.m., TNT/ESPN Radio
Game 5 * Mon. May 7, Dallas at Oklahoma City, TBD
Game 6 * Thu. May 10, Oklahoma City at Dallas, TBD
Game 7 * Sat. May 12, Dallas at Oklahoma City ,TBD, TNT
* if necessary
L.A. Lakers vs. Denver
Game 1 - Sun. April 29, Denver at L.A. Lakers, 3:30 p.m., ABC/ESPN Radio
Game 2 - Tue. May 1, Denver at L.A. Lakers, 10:30 p.m., TNT
Game 3 - Fri May 4, L.A. Lakers at Denver, 10:30 p.m., ESPN
Game 4 - Sun. May 6, L.A. Lakers at Denver, 9:30 p.m., TNT
Game 5 * Tue. May 8, Denver at L.A. Lakers, TBD
Game 6 * Thu. May 10, L.A. Lakers at Denver, TBD
Game 7 * Sat. May 12, Denver at L.A. Lakers, TBD, TNT
* if necessary
Memphis vs. L.A. Clippers
Game 1 - Sun. April 29, L.A. Clippers at Memphis, 9:30 p.m., TNT
Game 2 - Wed. May 2, L.A. Clippers at Memphis, 9:30 p.m., TNT
Game 3 - Sat. May 5, Memphis at L.A. Clippers, 4:30 p.m., ESPN
Game 4 - Mon. May 7, Memphis at L.A. Clippers, TBD
Game 5 * Wed. May 9, L.A. Clippers at Memphis, TBD
Game 6 * Fri. May 11, Memphis at L.A. Clippers, TBD
Game 7 * Sun. May 13, L.A. Clippers at Memphis, TBD
* if necessary
All times are Eastern
R - ESPN radio
FOLLOW MORE IBT NEWS ON THE BELOW CHANNELS