NBA Rumors: Chris Paul Feels Rockets Should Give Undersized Center Fresh Lease
KEY POINTS
Paul believes Tucker deserves a new contract
Tucker holding up the middle with Rockets' small-ball ploy
Morey following "one year at a time" philosophy
The Houston Rockets are believed to be trying to get bigger with most doubting their small-ball philosophy will not hold up. Several names are in the mix but nothing has prospered. Regardless, former Rocket Chris Paul believes that P.J. Tucker deserves some sort of reward and the best would be handing him a contract extension.
According to the Houston Chronicle, Paul feels that the Rockets should give the 34-year-old extension. Tucker holds a $7.97 million salary next season but is not guaranteed. Considering that the 6-foot-5 forward has been holding his own in the middle for the Rockets, the least they can do is guarantee his deal before NBA free agency starts.
"I think the person that I probably learned the most from was P.J., P.J. Tucker, who was like my brother, man. He's so selfless, gives himself up night in and night out. P.J. is like the unsung hero of the NBA, you know what I mean? He's not going to be on the stat sheet with all this different type stuff," Paul said during All-Star Media Day in Chicago (via USA Today).
This season, Tucker has played in 54 games averaging 7.4 points, 7.0 rebounds and 1.6 assists per Basketball-Reference.com. But beyond the numbers, Tucker is known to be one of the league's toughest defenders and a good leader in the locker room.
For now, there is no telling what Rockets general manager Daryl Morey plans to do. Tucker is not getting any younger and this could be a factor behind the non-guaranteed contract. And if his words last September (via USA Today) is to be recalled, it appears Morey wants to use a one-year-at-a-time approach.
"I have found you don't really get to an agreement with what both sides are looking at … until you are one year out," Morey said.
As far as their search for a big man, Bismack Biyombo could be a target. He is currently playing for the Charlotte Hornets but could be a buyout candidate. If not the 6-foot-8 center, Morey could take a chance on Joakim Noah. The 34-year-old has been trying out with other teams but nothing has gone down.
The Rockets do have centers in the mix in Tyson Chandler and Isaiah Hartenstein. But based on the Rockets' small-ball plans, it appears head coach Mike D'Antoni has no plans for them as of the moment.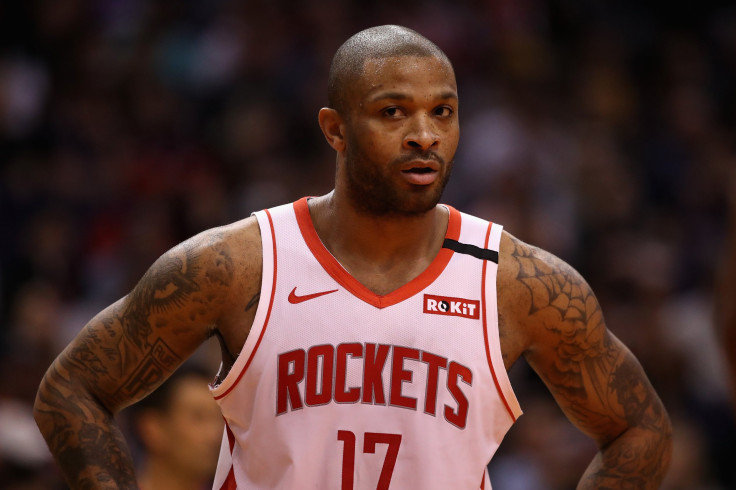 © Copyright IBTimes 2023. All rights reserved.