NBA Rumors: Cleveland Cavaliers Re-Emerge In Ben Simmons Trade Talks
KEY POINTS
The Cleveland Cavaliers previously explored a trade for Ben Simmons, a journalist says
Simmons reportedly is "no closer" to agreeing to come back to play with the Sixers
The Sixers are expected to start talking more with teams interested in Simmons as the trade deadline approaches
The Cleveland Cavaliers are a "team to watch" in potential trade talks for Philadelphia 76ers star Ben Simmons, according to a trusted NBA insider.
Adrian Wojnarowski of ESPN made the comment during a recent appearance on "NBA Countdown" while discussing the disgruntled All-Star forward's situation as February's trade deadline draws closer.
"Ben Simmons in Philadelphia, I think you'll start to see the 76ers re-engage teams. Certainly, he is no closer to agreeing to come back to play with the Sixers this season, and they don't have any real traction on a trade yet... But here's an interesting team to watch: the Cleveland Cavaliers, who before they went on this really incredible start to the season, had been engaged with Philly on Simmons," Wojnarowski said.
"They've got some really intriguing assets, either in a straight deal or perhaps a three- or four-team deal," he noted.
The journalist added that he expects Philadelphia to start talking more with teams as the Feb. 10 deadline approaches and that he thinks Simmons fits into the "timeline" of the 76ers, which has a young core.
The Cavaliers have been one of the most surprising teams in the NBA this season and are poised to finish the season at around the fourth or fifth seed if they can sustain their momentum until April.
Making a move for Simmons would solidify the franchise's desire to compete in the playoffs this season, potentially making them a new rising power in the East.
The team has found success in its surprisingly effective starting five of Jarrett Allen, Lauri Markkanen, Darius Garland, Isaac Okoro and rookie sensation Evan Mobley.
Subscription-based stats website Cleaning the Glass has the Cavaliers ranked squarely in the middle of the pack when it comes to scoring points per 100 possessions (110.6), but their defense has been anchoring them so far this season.
They are only allowing their opponents to score an average of 103.8 points per 100 possessions, well below the league average of 109.7.
Adding Simmons to this group that already contains two defensive stalwarts in Mobley and Allen allows the Cavaliers to become the best defensive team in the league.
The Sixers are expected to ask for a haul of talent and picks from any team interested in Simmons, meaning that both Garland and Okoro could be on their way to Philadelphia if trade talks happen.
While trading for Simmons would make the Cavaliers one of the best teams in the NBA, the offense certainly becomes a big question mark since Simmons is not particularly interested in spacing the floor.
It can be argued that the Cavs should go after a player capable of raising their threat as an offensive unit since they cannot simply rely on throwing lobs to Allen and Mobley repeatedly over the course of a playoff series.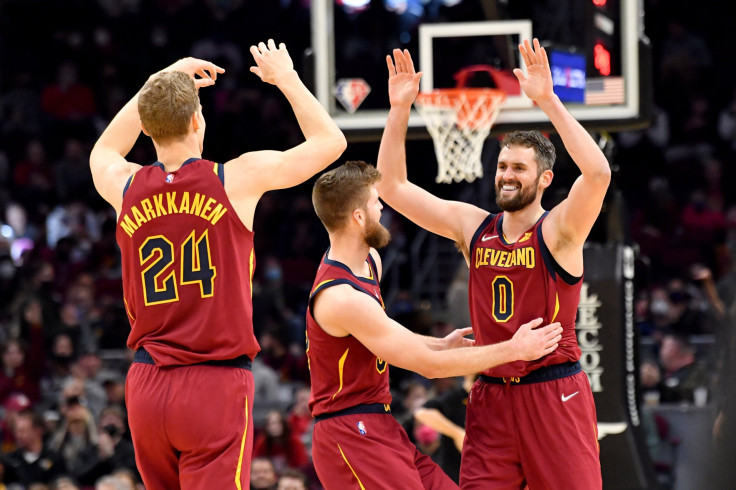 © Copyright IBTimes 2023. All rights reserved.