NBA Rumors: Ex-Heat Sacrifices Big Money, May Be Hitting Two Birds With One Stone
KEY POINTS
The Kendrick Nunn signing tones down concerns on the Lakers
Nunn may be on the verge of a breakout season in Los Angeles
Nunn reportedly shunned a better offer to hopefully win an NBA title
Kendrick Nunn may finally address the growing concern of pundits on the Los Angeles Lakers' campaign for the 2021-22 NBA season.
With the franchise signing one veteran after another, most questioned how the Lakers could keep the team healthy for the long haul.
The inevitable task of doing that falls on the shoulders of head coach Frank Vogel.
On paper, there is no question the Lakers are talented and that the veteran signings are a short-term solution.
Most are on one-year deals although it is pretty clear that the Lakers have the 2022 NBA title on their mind.
Among the notable young players officially in the mix are Talen Horton-Tucker and Alfonzo McKinnie. Somehow, the Lakers added two more players under 30 in Kendrick Nunn and Malik Monk.
Nunn is a notable addition, someone who grew to prominence with the Miami Heat.
The 26-year-old guard officially became a free agent on Tuesday after the Heat pulled his qualifying offer, Adrian Wojnarowski of ESPN reported.
It was later on reported by Shams Charania of The Athletic that Nunn agreed to a two-year deal worth $10 million to join the Lakers. The deal includes a player option.
Nunn opted to join the franchise rather than suit up for the New York Knicks who reportedly had bigger money to offer.
The Lakers get a young player who can get the offense going. With the Heat, the 6-foot-2 guard averaged 14.6 points, 3.2 rebounds, and 2.6 assists.
He also shot 48.5% from the field and 38.1% from beyond the three-point region.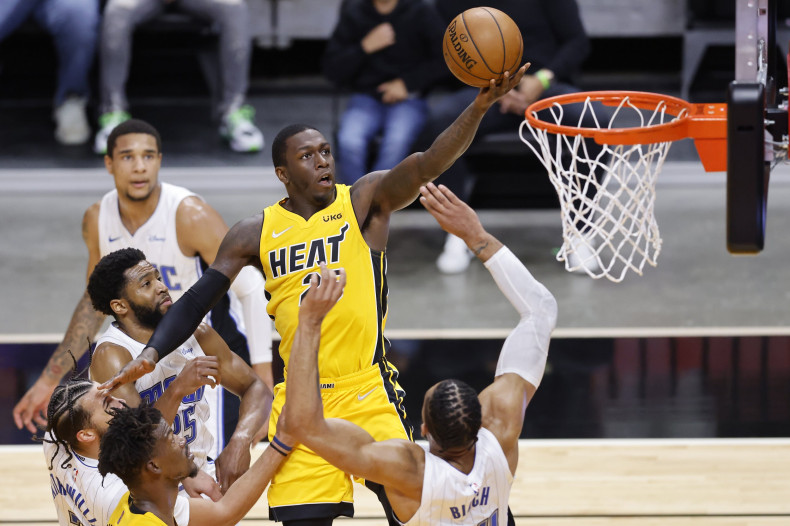 Nunn has shown promise since joining the Heat in 2019. He placed second in the Rookie of the Year voting for the 2019-20 season.
It will be interesting how Nunn will figure this season, and his success will depend on the playing time given.
He has already shown what he can do, and with more time on the floor, it could also be a chance for him to break out.
Nunn will be put to the test as he tries to show he can step up when called upon.
Assuming the injury bug preys on the Lakers' vets, the Illinois native may have just hit two birds with one stone with the big financial sacrifice to hopefully win an NBA title.
© Copyright IBTimes 2022. All rights reserved.