NBA Rumors: Former Lakers Center Feels Team With Best Record Should Be Declared Champion
KEY POINTS
Thompson feels Lakers should be crowned NBA champions
NBA season remains on hold and could be canceled
Bucks have a better record overall than the Lakers
The NBA has no idea when it could return to action and there is a chance that the league could be canceled entirely. After initially placing the 2019-20 season on hold, it appears that the league may be put on hold for an extended period of time. The coronavirus issue is getting worse and the number of people affected by it is growing.
Canceling the entire NBA season is the least desirable solution by most. But unless things get better, it may be the only viable solution. If the inevitable does happen, one thing remains - who will be declared the champion of the 2019-20 NBA season? Logically, the team with the best record before the NBA placed the league on hold could be plausible. And if that was the case, it would be the Milwaukee Bucks who tote a league-best 53-12 record.
Of course, being declared champions due to a technicality may feel a bit awkward. It will forever be etched in the record books though an NBA crown remains a title most teams covet. But for some reason, retired NBA player Mychal Thompson believes that the Los Angeles Lakers should be crowned 2019-20 NBA champions.
"Hmmm...So...IF the season duznt resume...I say Declare the LAKERS NBA champs...Why? Simple...Its the BEST organization in alla Sports...Greatest "Modern" NBA Histry(thats right Boston)...1st place in the TUFFER confrence...Case made...Case CLOSED!!" Thompson said via his Twitter account.
The dad of Klay Thompson reasoned that the Lakers are in a much tougher conference out West. Unfortunately, that may not hold up and others are likely to raise a howl. And despite being in a tougher group, the fact remains that the Bucks hold a 3-1 series advantage over the Lakers this NBA season per ESPN.
Also worth noting is that the Bucks hardly made key changes from the last NBA season. Giannis Antetokounmpo has risen to the challenge and has gotten help from guys like Khris Middleton and Brook Lopez. The Lakers, as most know, beefed up by adding Anthony Davis to the fold to join forces with LeBron James.
The Lakers will also not want to win the NBA title that way. Los Angeles has been known to work for its titles and copping it via a technicality seems half-cooked. But if push comes to shove and the NBA has no choice, this could be the worst-case scenario - regardless of players, teams, and fans liking it or not.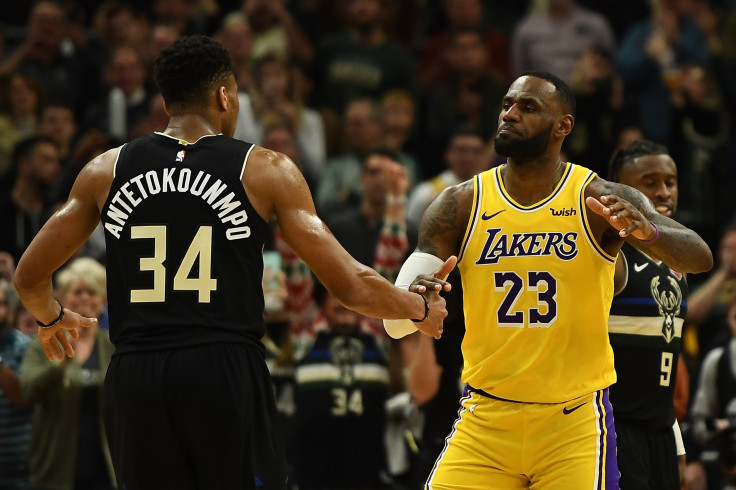 © Copyright IBTimes 2023. All rights reserved.