NBA Rumors: Haslem Feels Heat Need Him But Roster Spot In Question
KEY POINTS
Haslem says some Heat players still want him around
Haslem could end up as coach
Heat may decide Haslem fate soon
Udonis Haslem has played only three games this 2019-20 NBA season and some are speculating that it could be signs of him calling it a career. However, it appears the 39-year-old is not ready to hang it up, believing he remains a valuable part of the Miami Heat.
This NBA season, Haslem has hardly seen action on the court. He has played in only three games, putting up hardly impressive numbers (1.7 points and 2.7 rebounds in 7 minutes per contest). The last three seasons were no better with the 6-foot-8 veteran playing no more than 16 games per Baskteball-Reference.com.
That said, is Haslem finally hanging it up after the current NBA season? Based on his response to the Miami Herald, it appears he is unsure and points out how some players like Bam Adebayo and Jimmy Butler still want him around. Apparently, he knows he still has some responsibilities with the South Beach squad, branding it as unfinished business. Haslem is due $2.5 million this season and will become an unrestricted free agent this summer.
"I have a responsibility to these guys, and that's why I'm back because I didn't do my job the way I was supposed to last year," said Haslem. "We have the potential to make the playoffs, and we didn't."
Noble as it may seem, Haslem's future may not necessarily be in his hands. For one, most know how the Heat are starting to put together fresh and younger faces to rebuild the franchise. In fact, most though the Heat would not fare well this 2019-20 season. Rather, they are surprising critics and are on the way to the NBA playoffs as one of the top teams in the Eastern Conference.
Hence, rather than keep Haslem, team president Pat Riley may opt to use the roster spot (and money) on someone head coach Erik Spoelstra can use. The best Haslem can get is a coaching position, apparently something he is now technically doing. For now, Haslem's future remains uncertain although something could come up soon.
Regardless, Haslem can just keep on doing what he is doing right now. He is guiding the young guys and remains a locker room presence. As for next season, it is all up in the air for now.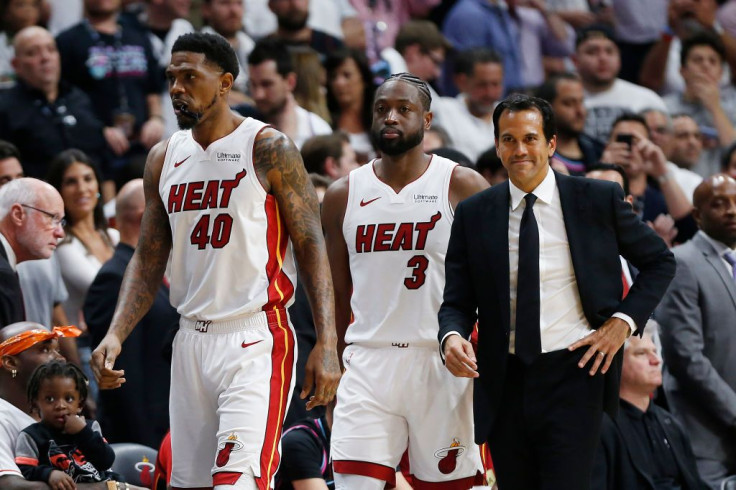 © Copyright IBTimes 2023. All rights reserved.