NBA Rumors: Heat All-Star Center Prefers To Stick It Out, End Career In Miami
KEY POINTS
Kevin Durant is unlikely to suit up for another NBA team this coming season
Bam Adebayo hopes to follow in Udonis Haslem's footsteps and remain in Miami for the rest of his career
The Brooklyn Nets cannot acquire Adebayo unless they give up Ben Simmons
The Miami Heat was one of the teams that Kevin Durant mentioned as a potential next stop following his trade request with the Brooklyn Nets. One name that would have made it possible was Bam Adebayo.
But the 25-year-old was ineligible to move to Brooklyn due to a technicality. This had something to do with Ben Simmons. Both are on rookie-designated extensions that go against the league's Collective Bargaining Agreement (CBA), which states that a team cannot trade for multiple players on such contracts.
Given that scenario, Simmons would have to be included in the deal or dealt to another team for the Durant trade to work.
However, if he was given the choice, Adebayo would prefer to follow the footsteps of veteran teammate Udonis Haslem and stick it out with the South Beach squad until his NBA playing years are over.
"If I could, I would. Just to have that opportunity to be around this community for my whole career. A lot of the community has seen me grow up. Going from a random 14th draft pick to being a cornerstone in this organization and becoming something bigger. It's just one of those things that's dope when people grow with you," the 6-foot-9 rising star told Miami Herald.
The good news for Adebayo is that the Heat is disinclined to include him in any potential trade. Further, Durant aired his wish to play alongside Adebayo as well as Kyle Lowry and Jimmy Butler.
The latest update is that the Heat, Phoenix Suns and the Toronto Raptors have begged off from any scenario of possibly getting the 12-time All-Star. Unless a twist happens, it appears that Durant will remain in Brooklyn for the coming 2022-23 season.
Renowned book author Roland Lazenby recently shared his thoughts on the Durant drama during an exclusive interview with PTV Sports. As far as he is concerned, the 2014 NBA MVP is likely to remain with the Nets, regardless of whether or not Kyrie Irving is there.
"The bottom line in this is that Kevin Durant loves to play basketball. And if none of this gets worked out and training camp opens, I predict he is going to go in and play basketball. He is under contract for at least three more seasons and it's a very fine contract," the veteran scribe said.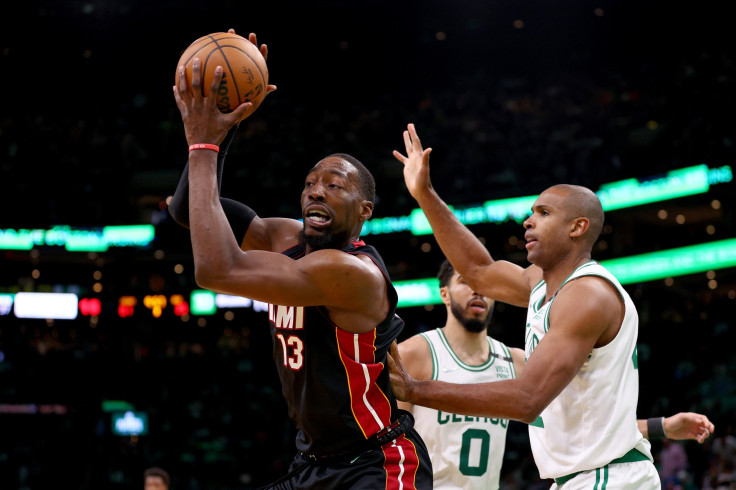 © Copyright IBTimes 2023. All rights reserved.