NBA Rumors: Jazz Stars Leave COVID-19 Past Behind, Focus On Team Goals
KEY POINTS
Mitchell and Gobert relationship now better
Mitchell focusing on remainder of NBA season
Jazz aching to get back into action in Orlando
The Utah Jazz is one of the teams set to take part in the NBA bubble games next month. The Jazz is one of the teams expected to sail into the 2019-20 NBA playoffs, being the no. 4 team in the Western Conference. Before that, basketball fans know that there are some misunderstandings from within involving their two top stars - Donovan Mitchell and Rudy Gobert.
It will be recalled that Gobert was one of the first NBA players who tested positive for COVID-19. That led to the NBA having to suspend the regular season. However, Gobert drew criticism for his antics after that. After an interview, the French center playfully touched the microphones and was unaware that this could spread the virus. Worse, Gobert was a bit careless at the locker room and unmindful that his teammates could also get infected. Unfortunately, one of those who contracted COVID-19 was Mitchell. This was covered in a previous post.
From there, the media just had a field day covering the issue. Some claimed that a rift was brewing between the two Jazz stars. Each social media post and comment that either player made became sensitive, most associate it with a brewing feud. Mitchell finally put an end to that in a talk with Tim MacMahon of ESPN.
"Right now, we're good. We're going out there ready to hoop. I think the biggest thing that kind of sucked was that it took away from the guys on the team, took away from what the guys on the team were trying to do," Mitchell said.
Based on Mitchell's words, it may have been a non-issue or something that they were able to settle. They both dealt with the COVID-19 virus but all that is now a thing of the past. With the resumption of play, both are now focusing on playing ball once more and pick up from where they left off.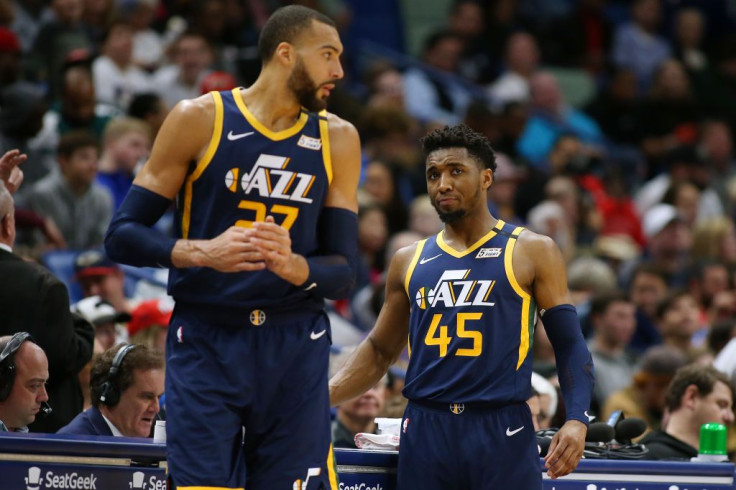 "I really wish that, going forward, I think that will be the primary focus, us jelling as a team. Obviously, Rudy and I had COVID and whatever happened, happened. But now we're ready to hoop and focus on the team as a whole," Mitchell added.
The Jazz hold a 41-23 win-loss record in the NBA Western Conference but could move up the ranks. The Denver Nuggets (43-22) are just 1.5 games ahead of them. Utah could move up if they win some more games and Denver sputters to get the third seed.
© Copyright IBTimes 2023. All rights reserved.