NBA Rumors: Knicks Interest In Durant Led To Latvian Exit
Kristaps Porzingis has a bright future and was considered as the next franchise player of the New York Knicks. But as most know by now, all those insinuations have fizzled. The Latvian was traded to the Dallas Mavericks, a move that still raises eyebrows to this day.
The original reason is that Porzingis was concerned about the direction of the Knicks at the time. And apparently, the 7-foot-3 cager was not in line with the Knicks' plans and New York opted to make a changeup. But what was that reason?
To date, that has yet to be disclosed. But according to the Lowe Post Podcast, it may have something to do with the Knicks' interest in Kevin Durant. It is no secret that the Knicks are seen as one of the potential destinations for the two-time NBA champion who will be one of the hot targets this coming summer.
If that report is to be believed, it seems that Porzingis was not that thrilled to play alongside Durant in Gotham. Though he has kept mum on this, the fourth overall pick of the 2011 NBA Draft reportedly wanted to be the face of the franchise.
But as NBC Sports suggested, this piece may be nothing more than an opinion on the part of Lowe. But then again, what would lead him to say such a piece with two big names in the NBA scene?
Right now, there is no question that Durant is the talk of the town. He has been performing well with the Golden State Warriors, a reason why it may be hard to foresee him playing elsewhere. But if the insinuations of Lowe are accurate, the Knicks may be confident about plucking him out of the Bay Area and into their fold.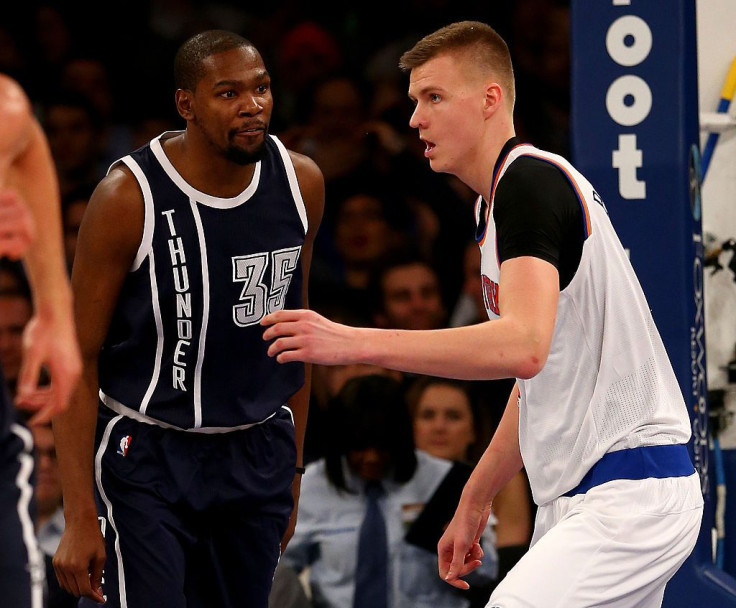 Durant is, of course, only one half of the plan. Another player on the Knicks radar is Kyrie Irving. The Porzingis trade will allow the Knicks to sign two NBA stars to max contract deals -- a reason why Durant and Irving have been often linked to New York as a potential stop, USA Today reported. The Knicks could have as much as $76.4 million in salary cap space in free agency this summer.
© Copyright IBTimes 2023. All rights reserved.