NBA Rumors: Kyle Lowry, Gordon Hayward Could Leave In Free Agency After 2017 Playoff Exits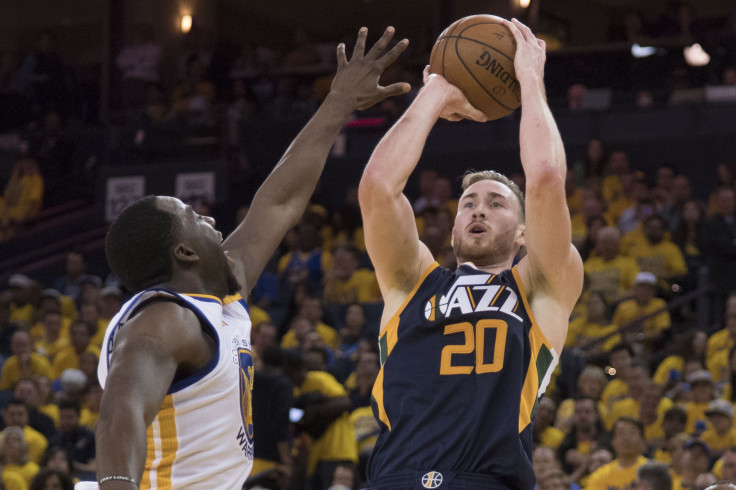 Kyle Lowry and Gordon Hayward suffered the same fate in the 2017 NBA Playoffs, being swept by the overwhelming favorites in their respective divisions. Shortly after being ousted by the Cleveland Cavaliers and Golden State Warriors, the two All-Stars will have to make important decisions about their futures in the league.
Lowry has confirmed that he will opt out of the final year of his contract with the Toronto Raptors, making him a free agent this summer. Hayward is set to make nearly $17 million in the final year of his deal with the Utah Jazz, but he's expected to opt out and join free agency, as well. After early exits in the postseason, there are already rumors that both players could seriously explore options outside of their current teams.
After the Raptors were eliminated in the second round of the playoffs, Lowry told reporters that his top priority would be winning a championship. While the point guard said that he believes he can win anywhere, he might be learning that he won't get to the NBA Finals with Toronto anytime soon.
Playing alongside DeMar DeRozan in one of the league's best backcourts, the Raptors have been among the Eastern Conference's best teams in each of the last four years, winning three division titles and averaging 51 victories per season. That, however, hasn't translated into playoff success, as Lowry has watched LeBron James waltz to the finals each year.
James is likely headed to his seventh NBA Finals in as many seasons. With the NBA's top star somehow playing the best basketball of his career in year No.14, it's unknown how long it might be until someone can stop James and the Cavs from winning the East.
"Honestly I haven't thought too far ahead of any of that. I will be opting out but that's as far as I've gotten," Lowry said, via Josh Lewenberg of TSN Sports.
Lowry will have no shortage of suitors this offseason, even though he'll turn 32 years old next season. He seems to be getting better every year, and he put up his best numbers in 2016-2017 with averages of 22.4 points, 7.0 assists and 4.8 rebounds per game. The point guard has made three straight All-Star teams.
With Derozan having signed a five-year contract worth $139 million last offseason, the Raptors will likely offer Lowry even more money in order to keep their star-studded backcourt intact. But if Lowry truly wants a ring, he should probably leave some money on the table and head elsewhere.
If going out West is under consideration, signing with the San Antonio Spurs might be a real option. There has been speculation that maybe Chris Paul could go to the Spurs, but he's likely to stay with the Los Angeles Clippers. Lowry makes more sense as a replacement for the aging Tony Parker.
The Milwaukee Bucks might be the best option for Lowry if he chose to go to another team in the East. With a young core led by Giannis Antetokounmpo, the Bucks might have the best chance to stop James and the Cavs from winning the conference at some point in the next few years.
Hayward is in a different position than Lowry. The small forward is just getting started with the Jazz at 27 years old, reaching the postseason for the first time as the star of the team. Utah defeated the Clippers in the first round, and they could be one of the West's top teams for years to come if they're able to keep their core together.
The former No.9 overall draft pick has gotten better every season of his seven-year career. His scoring average continues to increase, and he made his first All-Star team in 2017 by averaging 21.9 points per game on 47.1 percent shooting.
There's been speculation that Hayward could leave Utah to sign with the Boston Celtics. Boston seems to be one star away from becoming a legitimate NBA title contender, and he would fill a need at small forward.
While Lowry might want to leave the East because he can't get over the hump that is LeBron James, Hayward might see things a little differently. After being swept by Golden State and saying "you have to be almost perfect" in order to beat the Warriors, he might view joining a team like the Celtics as his best chance to win a ring.
As is the case with Lowry, however, the money could be too much for Hayward to leave. Teams are allowed to offer their own players five year deals, while free agents can only get a max of four year contracts elsewhere.
Lowry and Hayward might have to leave more than $50 million on the table to play for someone else in 2017. After leading their respective teams to 51 wins this past regular season, the money might be enough to keep them in their respective cities for the foreseeable future.
© Copyright IBTimes 2023. All rights reserved.