NBA Rumors: Kyrie Irving Likely Picking Nets, Anthony Davis Trade In Play For Brooklyn
The rumors that Kyrie Irving could sign with the Brooklyn Nets are growing. The point guard has been linked to his hometown team for months, and new reports suggest that he's leaning heavily toward picking the Big Apple's second team.
ESPN's Stephen A. Smith said on "First Take" Tuesday that Irving has indicated to the Nets that he plans to sign with them in free agency. Fox Sports' Colin Cowherd also noted Tuesday that he's heard Irving is eyeing Brooklyn. Bleacher Report's Ric Bucher told Cowherd last week that the Nets had the best chance to sign Irving.
If Irving goes to Brooklyn, it could have several domino effects. The Nets would likely try to pair the All-Star with an even better player, namely Kevin Durant or Anthony Davis.
In order to clear enough salary cap space to sign both Irving and Durant, Brooklyn would have to renounce D'Angelo Russell's rights and find a taker for Allen Crabbe's $18.5 million salary. It's been speculated that Durant could be swayed to join Brooklyn, though Smith reported that the Golden State Warriors' star doesn't have an interest in doing so.
An Irving-Davis pairing with the Nets might be more likely.
The Athletic's Shams Charania reported Tuesday that the New Orleans Pelicans have begun listening to offers for Davis. Brooklyn is thought to be able to put together one of the most intriguing trade packages for the superstar. Russell made the All-Star team in February. Young players like Caris Levert and Jarrett Allen are valuable trade chips.
Brooklyn might not part with their young players in exchange for Davis if they don't sign an All-Star. Davis can leave as a free agent in 2020, and he didn't list the Nets among his preferred destinations when he asked out of New Orleans earlier this year.
Much of the previous chatter about Irving teaming up with Davis or Durant had involved the Knicks. There was even speculation that New York might be able to acquire all three stars.
Maybe Durant and Irving will still head to Madison Square Garden. It's looking more likely that the Knicks might have to sign Kemba Walker if they hope to pair an elite point guard with Durant. New York is also at the forefront of the Anthony Davis Sweepstakes.
Smith reported a few weeks ago that Durant and Irving were likely to team up with the Knicks, but people close to Irving were trying to convince him to pick the Nets instead.
Irving could probably play with Davis on the Boston Celtics if he wants. Boston can offer Irving the largest contract, and the Celtics seemingly have the best potential offer for the Pelicans. The organization is unlikely to trade most of their assets for Davis without a commitment from Irving.
The Los Angeles Lakers are in the mix for both Irving and Davis, as well. Irving's complicated relationship with LeBron James and the Pelicans' resentment toward the Lakers could make it difficult for either player to land in L.A.
The Nets once seemed to be the most unlikely of the four potential destinations to sign Irving. With 25 days left until free agency officially begins, they've become the clear favorites.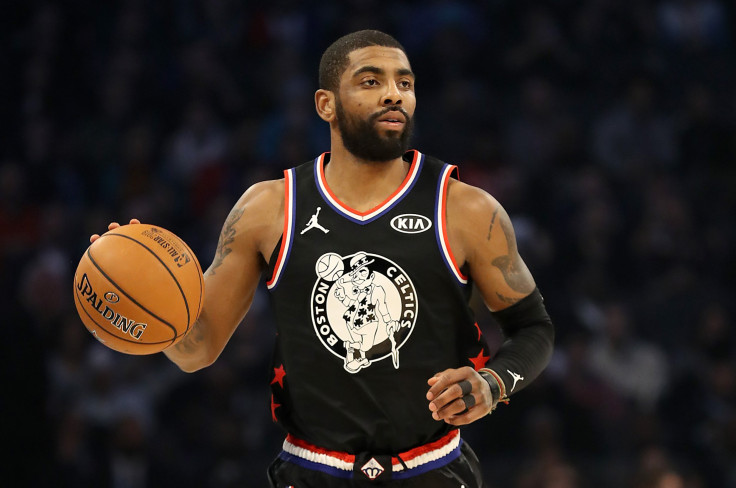 © Copyright IBTimes 2023. All rights reserved.