NBA Rumors: Lakers Have Coach Ready If Walton Gets Axed
The Los Angeles Lakers are in a mess and heads will roll after this season. There will be players exiting, particularly the old-timers. But equally interesting is the fate of Luke Walton who is getting all the blame for yet another disappointing NBA season.
Walton drew attention when he was able to lead the Golden State Warriors to an impressive start back in 2016. Current head coach Steve Kerr was rehabilitating his back at the time, but the 38-year-old was nevertheless able to steer the Dubs to a 24-0 start. That performance got him the Lakers head coaching position although it was pretty clear he faced a different kind of scenario heading into the 2016-17 NBA season.
With plenty of fixing to do, Walton made little headway with the Lakers. However, the fact remained that he handled a lot of young players along with vets who hardly helped the team's campaign at the time. Complicating things was the fact that there were changes at the top.
Dismissed were Mitch Kupchak and Jim Buss who would be replaced by Earvin "Magic" Johnson and Rob Pelinka. Despite the change at the helm, it hardly made a vast improvement to push the Lakers back in the NBA playoffs.
While Walton is not entirely to blame, the fact that he came in ahead of Johnson and Pelinka could indicate that change at the head coaching position would come in soon. Normally, it would be the call of the new guys on which coach they preferred, Lakers Nation reported. But is this a move the purple and gold would do?
Right now, it would be unfair to pin all the blame on Walton. Johnson and Pelinka are also to blame, particularly that controversial move to try and lure Anthony Johnson to Hollywood before the NBA trade deadline last month. Offering more than half of the lineup was pretty risky - meaning there would be trust issues if it failed to materialize. As most know that did fail to prosper and the Lakers are paying for it dearly since they are well on their way to missing the playoffs.
Now, Johnson seems to be at it again. He says that he does have a coach in mind in the event that Walton is fired. While he did not mention names, he offered a couple of clues. One is that it is not Mark Jackson and the other is that the person he had in mind is currently employed in the NBA as a head coach, Stephen A. Smith said on "First Take".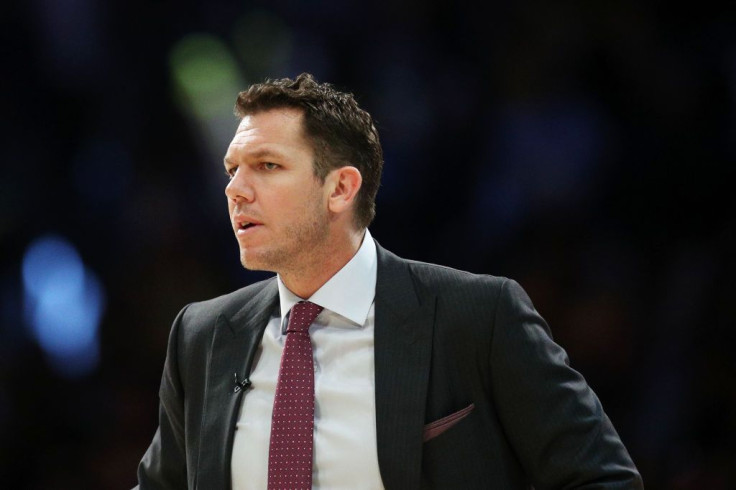 Replacing Walton is possible but not the best solution for the Lakers at this point. The former Laker had to work with a handicap, meaning his performance as a head coach is not on point.
© Copyright IBTimes 2023. All rights reserved.