NBA Rumors: Lakers Take The Long Road; Warriors Could Benefit From Jazz Playoff Matchup
KEY POINTS
The Lakers are tipped to win over the Warriors if James and Davis can deliver in the play-in tournament showdown
The Lakers have a long road ahead to make it to the NBA Finals again
The Warriors may be better off facing the Utah Jazz in the first round of the playoffs
The Los Angeles Lakers will have to take the long road to win another NBA title this season.
Their fate was sealed when the Portland Trail Blazers clinched the No. 6 seed following a 132-116 win over the Denver Nuggets, the same team they will face in the first round of the 2020-21 NBA playoffs.
For the Lakers, they end up facing the Golden State Warriors in the play-in tournament.
Both teams face each other on Wednesday at the Staples Center at 10: 00 p.m. ET. The winner will advance to the playoffs and face the Phoenix Suns, while the loser will have to beat the winner of the Memphis Grizzlies vs. San Antonio Spurs matchup.
The winner coming out from all of this will face the second-seeded Utah Jazz in the first round.
If the regular-season series is to be considered, the Lakers should be favored. They won two of the three NBA regular-season matchups and won via an average of 28.5 points.
The Lakers and Warriors haven't played in an NBA postseason since the 1991 Western Conference semifinals.
The Dubs are also familiar with the play of LeBron James and Anthony Davis although the duo was playing for different teams and not teammates.
Davis was still with the Pelicans at that time (2015 to 2018), while James is best known for his rivalry when he was still with the Cleveland Cavaliers.
Hence, it may spell double-trouble for Steve Kerr and his squad.
The best way for the Lakers to secure the playoff spot is to win outright. Regardless if it is the Suns or the Jazz, their regular-season series hardly differs.
The Lakers lost the regular-season series to the Suns, 1-2. The same holds for the Jazz, who also won handily.
As for the Warriors, a meeting with the Jazz appears to be better, considering they won twice in their three regular-season games.
Like the Lakers, they are 1-2 against the Suns.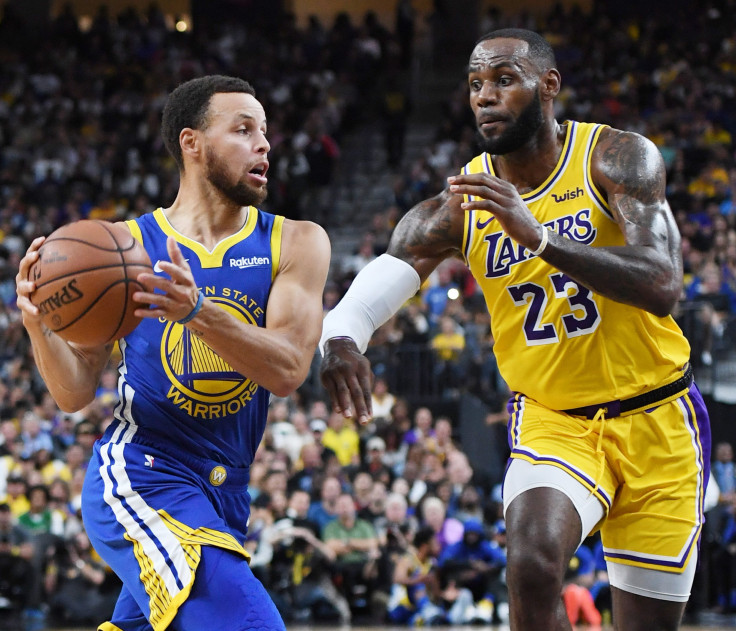 All of this may matter although it clearly shows that both teams could pick their opponents in the first round.
But given that the Lakers want to prove their stock as reigning NBA champions, going for a win as well as buying Davis and James some more time to rest would be best.
The Dubs are not in a bad position as well, but anything can still happen. All eyes will be on Stephen Curry who has been on fire as of late.
Will the Lakers manage to put the clamps on the two-time NBA MVP this Wednesday?
© Copyright IBTimes 2023. All rights reserved.