NBA Rumors: LaVine Frustrated, Aware Changes Needed Moving Forward
KEY POINTS
Bulls would best preserve LaVine for next season
LaVine has little reason to return for Chicago's remaining games
Bulls need to regroup this summer and address issues
The 2019-20 NBA season is in the home stretch but it appears the injury bug continues to hound the Chicago Bull. Already out of the playoff race, head coach Jim Boylen woes just got worse with Zach LaVine sidelined with a quadriceps strain but could still return. Looking at their record right now, it may be best if he sits out the remaining games and focuses on healing up for next season.
With LaVine sidelined, the Bulls got a bit of good news. Some players are returning to the fold. The most recent one is Otto Porter Jr. who was part of that win over the Dallas Mavericks recently. Other players set to return include Wendell Carter Jr. and potentially Lauri Markannen. With nothing but pride at stake, it could be the best time to break in these Bulls players as the team braces for another tough summer.
LaVine is not too happy about sitting out. In a report from NBC Sports Chicago, the 24-year-old bared how playing through pain is something he is accustomed to. But probably aware that his future is now different, it would be best to heal up and return when the time is right. And from the looks of it, that may be reserved for next season.
For Boylen, LaVine's absence will be hard to fill. In 60 games, the two-time NBA slam dunk champion holds averages of 25.5 points, 4.8 rebounds, and 4.2 assists. Looking at the Bulls roster, no one man may (immediately) replace those numbers. Hence, the best Chicago can do right now is to get everyone to step up, especially on the offensive side.
The defense has been the reason why the Bulls are performing well earlier on. But injuries to key players took its toll, a reason why they are missing the NBA playoff bus once again. It will be interesting as well if Boylen stays on as the team's head coach. He has had a stormy season at the helm but results are what Bulls management wants. If he does get axed, it means the Bulls will reset and rebuild anew.
LaVine may have hit a nerve when he said that something needs to change, The Athletic reported. He feels that this needs to be addressed in the offseason. The only question is will Boylen be there or someone else.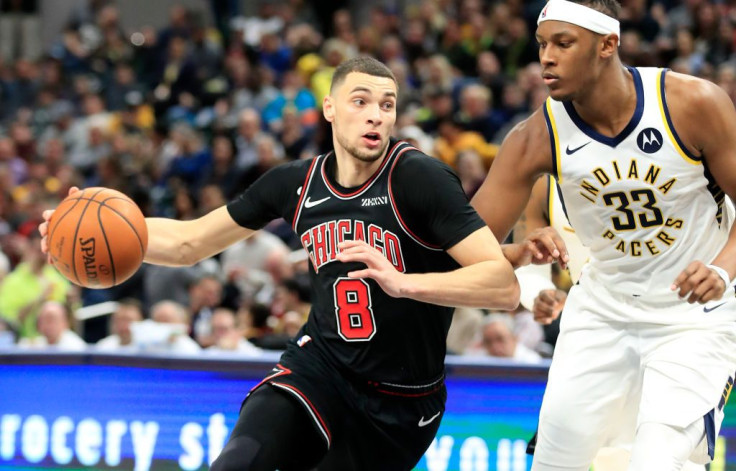 © Copyright IBTimes 2023. All rights reserved.