NBA Rumors: LeBron James' Camp Jabs Lakers Coach Luke Walton
The Los Angeles Lakers are still struggling, made even worse by the sidelining of LeBron James. While the NBA star has reportedly joined the team once more in full-contact defensive drills, it seems that a new issue has cropped up and it involves head coach Luke Walton.
According to Brian Windhorst & Hoop Collective, there are rumbling over at LeBron James' camp that they want a new head coach for the Los Angeles Lakers. Luke Walton is no stranger to such coaching change issues although it may be best to note that these murmurs originate from the people behind James and not actually him.
Since agreeing to take over the head coaching position for the Los Angeles Lakers in 2016, Walton has been on a roller coaster ride. The 38-year-old has had his share of criticism, inheriting a team in rebuilding mode that needed a big turnaround.
Walton was put on a spot trying to bring out the best from the likes of Jordan Clarkson, Larry Nance Jr., Julius Randle, Brandon Ingram, Lonzo Ball, and Kyle Kuzma. Half of those names have gone on to join other teams but the Lakers did end up with the biggest catch of the 2018 NBA offseason when they signed James to a four-year $154-million deal, Fansided reported.
Bringing in James was something but also brought in potential problems – that of which is further adding pressure to Walton as head coach. The whole issue right now hardly comes as a surprise although the James camp may have a hard time getting their wish granted.
Jeanie Buss said that she wants Walton in Los Angeles and that she is backing him 100-percent. However, she added that any decision that needed to be made would fall at the hands of team president Earvin Magic Johnson. From the looks of it, Walton's fate will thus depend on what the NBA legend decides.
Walton's case is nothing new when LeBron James is in the picture. It was the same scenario for Erik Spoelstra with the Miami Heat when James was still part of the franchise. Team president Pat Riley stood pat on Spoelstra so it now it remains to be seen if Johnson will do the same.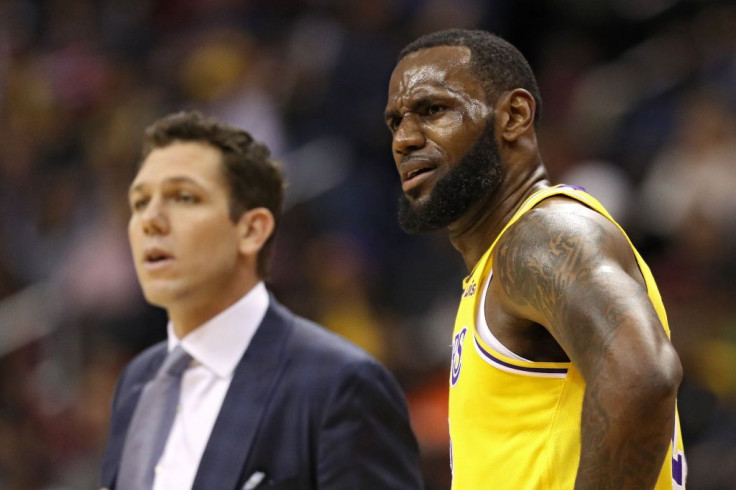 Again, the people talking are the ones behind James. The 34-year-old cager has yet to tackle the alleged issue although an official statement may come out in the coming days, if any.
© Copyright IBTimes 2023. All rights reserved.