NBA Rumors: Miami Heat Unlikely To Hand Undrafted Guard Good Deal In Offseason
KEY POINTS
Kendrick Nunn could be offered a financial package the Miami Heat may not be able to match
Duncan Robinson is also set to become a restricted free agent
The Heat will likely keep Victor Oladipo
Kendrick Nunn has proven his worth, but the reality is that his future with the Miami Heat hangs in the balance.
For now, the plight of the 25-year-old for the rest of the season should be fine, especially with Victor Oladipo out for the rest of the season and the start of the 2021-22 season.
Being on an expiring deal, there is no telling if the two-time All-Star guard will be returning to South Beach.
But seeing he recently purchased a mansion in Miami Beach, the speculation is that he is likely to stay on.
Should that be the case, it raises the question of the future of other Heat players like Nunn.
On paper, the best the Heat can do is offer the 6-foot-2 guard a qualifying offer of $4.7 million after this NBA season.
However, the reality is that Nunn could get a better offer–perhaps even two to three times that amount.
So being a restricted free agent this summer, Miami would need to match any offer that could be roughly worth between $13 to $15 million.
Given that Nunn has held up his own this season, his numbers could be beneficial to rebuilding teams like the Chicago Bulls or Detroit Pistons.
In 56 games, the playmaker has normed 14.6 points, 3.2 rebounds, and 2.6 assists in 29.5 minutes of action.
Nunn could be a good fit for other teams who can give him more playing time. Hence, Heat president Pat Riley may have to figure out what comes next.
If Riley does retain Oladipo, it would mean a crowded backcourt for the South Beach squad.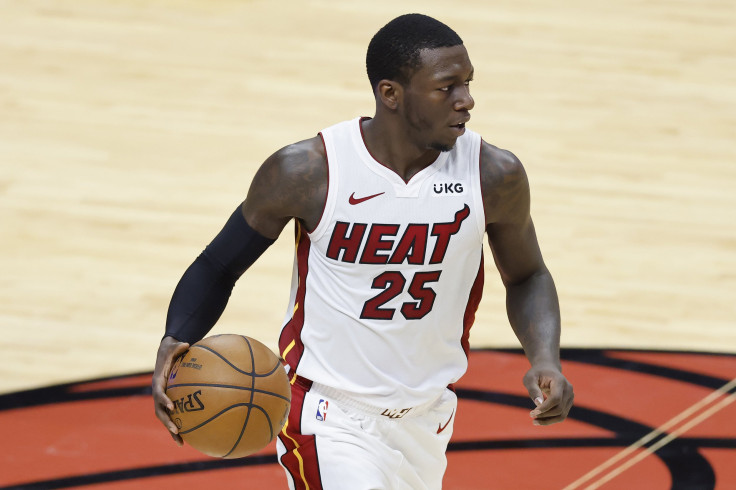 Aside from Nunn, Duncan Robinson is also set to become a restricted free agent. Miami could end up losing two players if they are unable to match offer sheets from teams in the summer. A lot hinges on what the Heat plan to do with Oladipo.
If the second overall pick of the 2013 NBA Draft is kept, the Heat may have to give up one or both Nunn and Robinson.
It may no longer be down to the issue of an overloaded backcourt but more on money matters.
© Copyright IBTimes 2023. All rights reserved.