NBA Rumors: Too Late For Herro For Rookie Of The Year Honors
KEY POINTS
Herro believes he had a shot at the NBA Rookie of the Year plum
Herro blames injuries for falling short
Herro unlikely to catch up to leaders
Tyler Herro of the Miami Heat had a good chance to be considered for the NBA Rookie of the Year plum if not for the lack of games. He suffered an ankle injury, something that kept him out for several games. For him, he would be among the leading candidates for the ROY plum had he not missed games for the South Beach squad.
"I ended up getting hurt towards the middle of the year, I missed like 15 games, but before that, I felt like I was starting to find my stride, starting to prove myself, so I'm definitely looking forward to getting back," Herro said via ESPN.
"I definitely feel like if it wasn't for that injury, I feel like I would be one or two in the Rookie of the Year race, so I'm ready to get out there and prove myself again."
Herro is raring to play but the problem is that there is no telling what the league office has planned. The good news is that he holds a good chance of making up for the lost time. The Miami Heat are well on their way to the playoffs, sitting at the fourth spot in the NBA Eastern Conference. But he faces a tough adversary with Ja Morant of the Memphis Grizzlies leading the pack.
There is also Zion Williamson of the New Orleans Pelicans although they are likely out of it. Due to time constraints, there is a possibility that the league could shorten the season and do away some regular-season games. If that happens, the Pels could be casualties. They tote a 28-36 win-loss card in the Western Conference and need 3.5 games behind the Grizzlies.
With uncertainty in the air, all Herro can do right now is rest his ankle and keep himself in shape. Although there are plans to allow teams to return to practice next week, the 20-year-old has been doing his workouts at home to stay in form, Yahoo Sports reported.
In 47 games, Herro has averaged 12.9 points, 4.0 rebounds and 1.9 assists. These are hardly impressive numbers, meaning it may take a huge amount of luck for him to win the NBA Rookie of the Year award for the 2019-20 season.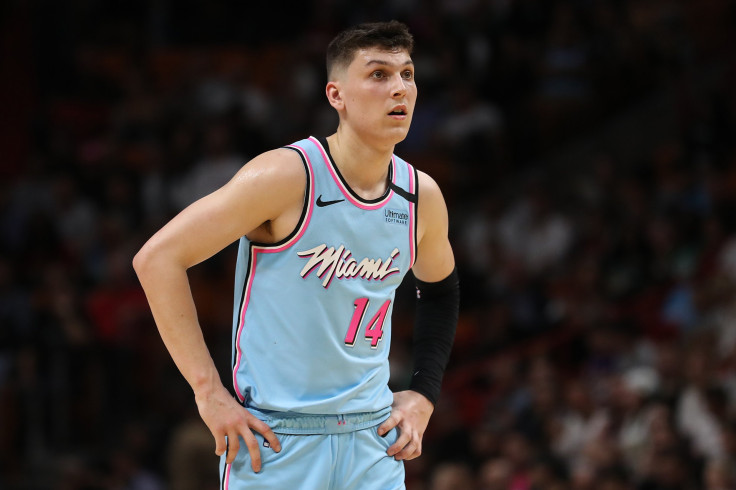 © Copyright IBTimes 2023. All rights reserved.