NBA Rumors: Victor Oladipo Could Flip The Script For Indiana Pacers In Orlando
KEY POINTS
Victor Oladipo has been impressive durring Indiana Pacers practices
Victor Oladipo could change his mind and resume playing this NBA season
Victor Oladipo aware he needs to stay healthy and play well in preparation for free agency next summer
Victor Oladipo has originally planned to pass on the NBA bubble games set to start next month in Orlando. But it appears the second pick of the 2013 NBA Draft could suit up after all following multiple strong team practices.
Last July 3, Oladipo explained why he was not planning to play at Walt Disney World Resort. He wanted to focus on rehabbing his injuries and return at full health.
"I really want to play, and as a competitor and teammate this is tearing me apart. I feel like I'm at a great place in my rehab and getting closer and closer to 100 percent...I have to be smart and this decision hasn't been easy, but I truly believe continuing on the course I'm on and getting fully healthy for the 2020-21 season is the right decision for me," Oladipo said.
However, it appears the 6-foot-4 guard is showing something different in practices. Though he said he was not going to play, Oladipo joined the Pacers when they traveled to Orlando, Florida. It appears he was healthy enough to participate in practices and now that has sent of feelers of him possibly playing at the NBA bubble games, Shams Charania of The Athletic reported.
Only Oladipo is in the best position to figure out if he is good to go and help the Pacers in the NBA bubble games. Then again, he could be balancing his body and preparing just in case he can play once the NBA playoffs come around. The Pacers are expected to be among the teams to make it to the next round.
Having suffered a ruptured Achilles during the 2018-19 NBA season and playing in only 13 games this season, there is no question that Oladipo is far from his old form. But having gone through a long rehabilitation process, it is understandable why he is being cautious about a potential return.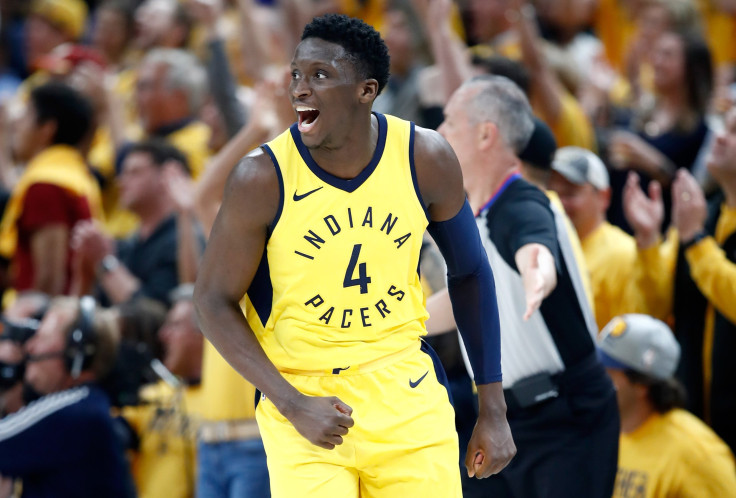 Oladipo may also be factoring in his NBA future. He is set to become a free agent next summer and the desired contract he wants can only happen with a good showing in the 2020-21 season. If he does play for the remainder of the season, he could be used sparingly or play at less than his usual self. It all depends if the itch to compete becomes unbearable for the two-time All-Star.
© Copyright IBTimes 2023. All rights reserved.