NBA Rumors: Warriors Expected To Offer Klay Thompson A Five-Year Max Deal, Father Says
Ahead of his upcoming free agency, Klay Thompson's father revealed that the Golden State Warriors are expected to offer the All-Star shooting guard a five-year max contract extension.
Now that the NBA Finals is finally over, it is safe to assume that both the Warriors management and players are now looking to fix things. Part of it is making smart decisions, especially for upcoming free agents Kevin Durant and Klay Thompson.
Thompson is set to be a free agent this offseason and reports of him demanding for a max contract has already emerged these past few weeks. At one point, the Atlanta Hawks have showed interest in the 29-year-old sharpshooter but a very recent update just broke about the All-Star's current free agency status.
Fresh from the mouth of Klay's father Mychal Thompson himself, who is considered a highly reliable source, comes the statement that there is no doubt Klay will re-sign with the Warriors. To support his revelation, Mychal even added that the team is still expected to offer his son a full five-year maximum deal, CBS Sports noted.
Almost a year from now, Mychal already said that Klay will retire as a Warrior. And he was very confident about it.
"Oh yeah, you can mark it down. Klay's going to retire in the Warriors' uniform," Thompson said last August.
Prior to this, Mychal also apparently overheard a very important conversation that occurred during the crucial moments of game 6 of the NBA Finals.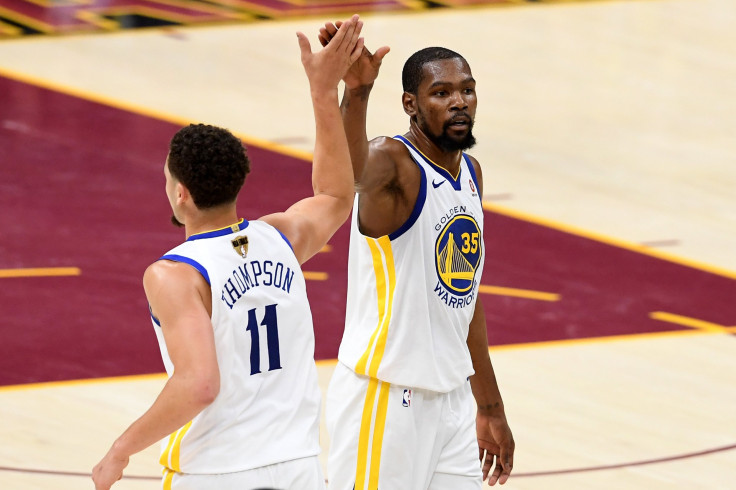 According to Mychal, when Klay was back in the locker room minutes before the All-Star shooting guard is about to receive an MRI exam, he heard Klay and Durant talking but he doesn't think that both players want him to divulge it, New York Post reported.
"I heard them talking, but I don't think they'd want me to divulge it," Mychal told ESPN when asked about the conversation.
"They were encouraging each other to come back strong. They got unfinished business," Mychal added.
Indeed Mychal's statements are very significant for both Warriors fans and NBA teams as well. This certain "unfinished business" that Klay and Durant were talking about will surely mean a lot, especially for those teams who are reportedly interested in signing them.
From the looks of it, it appears that there is still a hope that the Golden State Warriors could recuperate and talk things over this offseason and come back stronger once again next season.
© Copyright IBTimes 2023. All rights reserved.