NBA Standings 2018-2019: Warriors Lead West Amid Durant-Draymond Drama, Lakers, Rockets Making Push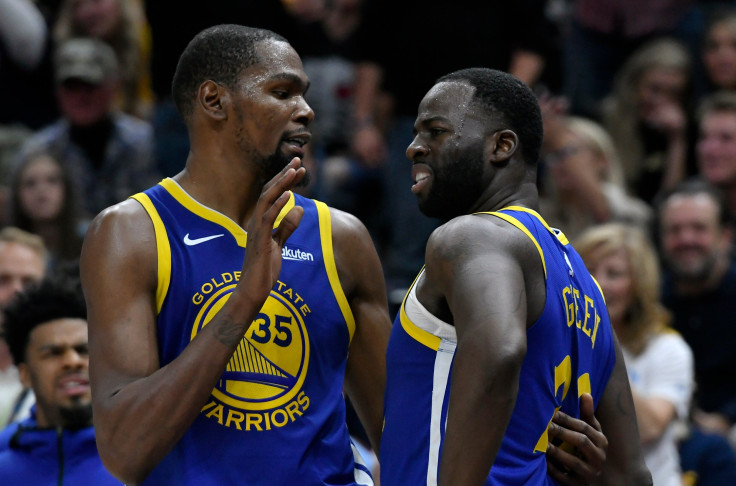 The Golden State Warriors (12-3) have the best record in the Western Conference, but their place in the 2018-2019 NBA Standings is low on the list of intriguing stories surrounding the defending champions. Stephen Curry is dealing with an injury, while Kevin Durant and Draymond Green engaged in a confrontation that resulted in a suspension.
Golden State defeated the Atlanta Hawks (3-11) 110-103 Tuesday night without Green in the lineup. The former Defensive Player of the Year was suspended for a game because of an argument he got into with Durant both on the court and in the locker room Monday night. Green reportedly brought up Durant's impending free agency during their clash.
Curry missed his third straight game Tuesday with a groin strain.
Perhaps the drama will have an effect on the Warriors this season, though the team is expected to be near the top of the standings until the playoffs. They've got a one-game lead over the Portland Trail Blazers (10-3) for the West's No.1 seed. Golden State is a half-game behind the Toronto Raptors (12-2) for the best record in basketball.
After Golden State and Portland, there isn't much separation among the potential playoff teams in the West. The Denver Nuggets (9-5) are the No.3 seed and one of five teams that has exactly five losses. Four teams have exactly six losses.
The Los Angeles Lakers (7-6) are in that group, and they are slowly making their way up the standings. After losing their first three games with LeBron James in the fold, L.A. has gone 7-3.
The Lakers have won five of their last six contests. After hosting Portland Wednesday night, Los Angeles will face three straight Eastern Conference opponents. James leads the team with 26.4 points, 7.8 rebounds and 7.1 assists per game.
Now that James Harden and Chris Paul are both back in the starting lineup, the Houston Rockets (6-7) are looking like one of the West's best teams. They have won five of their last seven games.
© Copyright IBTimes 2023. All rights reserved.