NBA Standings 2020: Los Angeles Lakers, Milwaukee Bucks Head Into All-Star Break As No.1 Seeds
The No.1 seeds in both conferences have comfortable leads at the 2020 NBA All-Star break. The Los Angeles Lakers (41-12) have created a decent amount of separation between themselves and the rest of the West. The Milwaukee Bucks (46-8) have basically locked up the top spot in the East.
L.A. won a big game ahead of its weeklong layoff. The Lakers beat the No.2 seed Denver Nuggets (38-17) in overtime 120-116 Wednesday night. LeBron James had a triple-double, leading the Lakers with 32 points, 12 rebounds and 14 assists. Anthony Davis added 33 points, 10 rebounds and two blocks.
The victory gave Los Angeles a four-game lead over Denver. The Lakers have two wins over the Nuggets in three tries this season, giving them the edge in a potential tiebreaker.
Milwaukee is atop the overall NBA standings and 6.5 games ahead of the No.2 seed Toronto Raptors (40-15), despite entering All-Star Weekend off a loss. The Bucks were defeated by the No.6 seed Indiana Pacers (32-23) as Giannis Antetokounmpo missed his second straight game after the birth of his child.
Antetokounmpo is running away with the NBA MVP award. The best player on the best team is second in scoring (30.0 ppg), fifth in rebounding (13.5 rpg) and among the top Defensive Player of the Year candidates.
The Bucks are outscoring their opponents by 12.1 points per game. The Lakers are a distant second with a plus-7.4 point differential.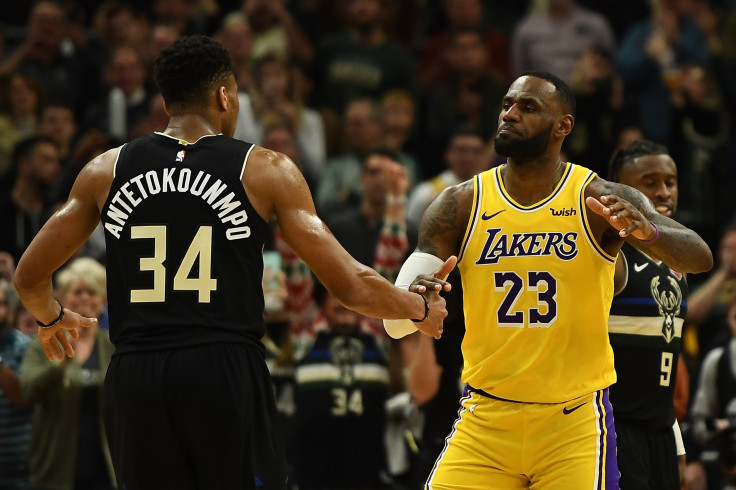 It looks to be a four-team race in the West for the No.2 seed. Denver is a half-game ahead of the Los Angeles Clippers (37-17) and one game in the loss column in front of the Utah Jazz (36-18). The Houston Rockets (34-20) only trail the Nuggets by 3.5 games, potentially rejuvenated by their new "small-ball" lineup.
In the East, Toronto is two games ahead of the Boston Celtics (37-16) and 5.5 games ahead of the Miami Heat (35-19). The defending champions had their 15-game winning streak snapped with a loss to the No.7 seed Brooklyn Nets (25-28) in their last game before the break.
The Philadelphia 76ers (34-21) were maybe the most disappointing team in the first half of the season. They would not have home-court advantage in a first-round playoff series at the moment. Philadelphia is 9-19 on the road.
The Lakers have the NBA's best road record at 23-5. The Bucks are 21-5 away from home.
© Copyright IBTimes 2023. All rights reserved.