NBA Trade Rumors 2015: DeMarcus Cousins, Dwight Howard, Hassan Whiteside At Heart Of Early Speculation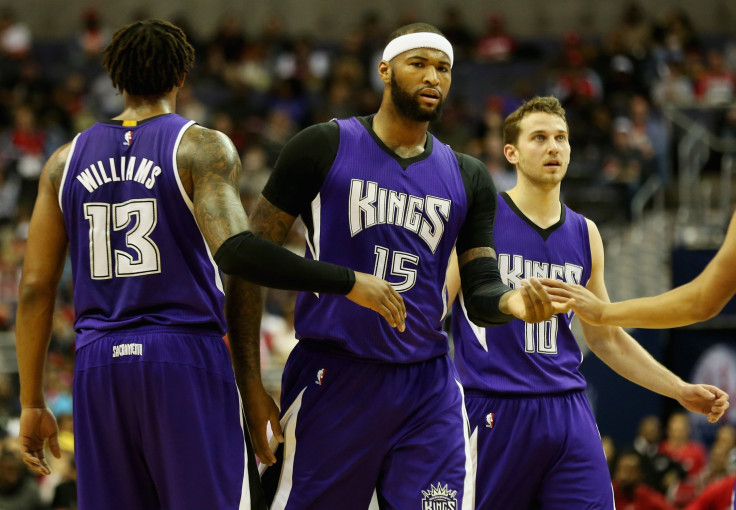 Three of the NBA's best big men may be moving on from their respective teams during the season. The Sacramento Kings' DeMarcus Cousins, Houston Rockets' Dwight Howard and Miami Heat's Hassan Whiteside, were all linked to trade chatter Tuesday, according to reports.
With the league short on big men, and many teams dangling future draft picks or expiring contracts in potential deals, it seems possible at least one of the trio could be moved before the NBA's trade deadline on Feb. 18.
In terms of Howard, Sheridan Hoops reported he's "unhappy" playing beside Rockets star shooting guard James Harden and the site predicted Howard would be donning a Heat uniform by the end of February.
Howard, now in his third season in Houston after leaving the Los Angeles Lakers, is second on the team with 12.6 points per game but is attempting just 8.3 shots a contest, the fifth-highest average on the Rockets. That's caused his scoring average to dip to its lowest since his rookie year, and the 30-year-old may feel underappreciated, underutilized, or both.
The report stresses that since Miami will be unable to offer the NBA's leading shot-blocker Whiteside a maximum level deal when his contract is up next summer, it is instead looking to cash-in and exchange the talented low-post player for another big man rather than losing him for nothing in 2016.
With the NBA's salary cap shooting past $90 million next season, one would think Miami would have enough space to keep Whiteside. However, Heat president Pat Riley may have to extend shooting guard Dwyane Wade's deal and that of small forward Luol Deng, and Miami doesn't have Whiteside's full Bird Rights, which would allow them to go over the cap in order to retain him. The Heat already have $48 million, or more than half of next year's expected cap number, devoted to player contracts.
The veracity of the report remains unclear, but Ira Winderman, Heat beat reporter for the South Florida Sun Sentinel, tweeted that Miami denied the speculation.
However, Howard might not be Miami's top target. In a separate report, Sheridan Hoops cited league sources who said the Heat also join the Boston Celtics and Chicago Bulls in the pursuit of Cousins.
The Kings and Cousins have had a rough relationship over the last six years, most recently amidst rumors that would have sent Cousins to the Lakers in a draft day trade back in June. There has also been a rocky relationship between Cousins and head coach George Karl.
The Celtics could offer Sacramento, mired in yet another rebuilding process, Brooklyn's two unprotected first-round picks in 2016 and 2018 as well as young players like big man Kelly Olynyk, Jared Sullinger, and Marcus Smart, and even the expiring contract of forward David Lee.
Chicago, still among the top teams in the Eastern Conference, can offer the Kings the expiring deal of center Joakim Noah as well as forward Taj Gibson and even rookie forward Bobby Portis in order to land Cousins.
© Copyright IBTimes 2023. All rights reserved.