NBA Trade Rumors: Celtics Could Trade Ray Allen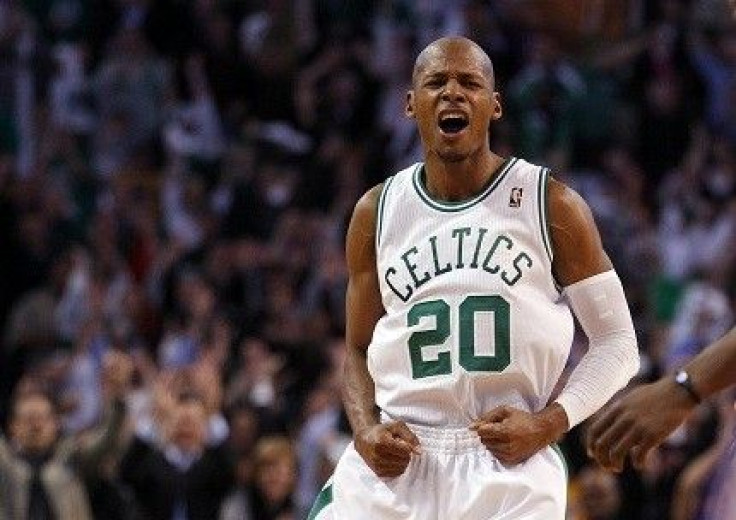 The latest NBA trade rumors have the Boston Celtics possibly trading away shooting guard Ray Allen.
Sporting News reports that Allen, a long-range shooting specialist, has generated the most interest from NBA contenders.
The Celtics aren't eager to trade Allen, according to the sports magazine, but if they continue to slide and are offered a young piece or a draft pick, making a deal would be hard to resist.
Allen, 36, is a free agent this off-season and could potentially be a good mid-season grab for a team making a playoff push. Allen is currently averaging 14.5 points per game and would be the perfect addition for a team that needs some outside shooting help should the Celtics decide to become sellers.
The Celtics have a 15-17 record at the All-star break, but would be the eighth seed in the Eastern Conference if the season were to end today. The Celtics have looked noticeably older and slower in 2012 which is why Allen and point guard Rajon Rondo continue to pop up in trade rumors, but the organization is in a bit of limbo right now.
The Celtics could become buyers and try to make a push for the playoffs or could sell of players like Allen and begin the rebuilding process around a younger core nucleus. Danny Ainge, the Celtics' president of basketball operations, has indicated willingness in the past to shake things up to better the team, but it's still unclear which way the Celtics are headed.
The Celtics do have some time to figure things out -- the NBA trade deadline is on March 15th -- but keep an eye on how the team plays as it will undoubtedly have a major impact on what they decide to do with roster management.
Other notable players that could be traded at the deadline, according to the Sporting News, include Orlando Magic center Dwight Howard, Dallas Mavericks forward Shawn Marion, Toronto Raptors guard Jose Calderon, and Minnesota Timberwolves forward Michael Beasley.
© Copyright IBTimes 2023. All rights reserved.