NBA Trade Rumors: Celtics, Raptors Linked To Top Big Men Before Deadline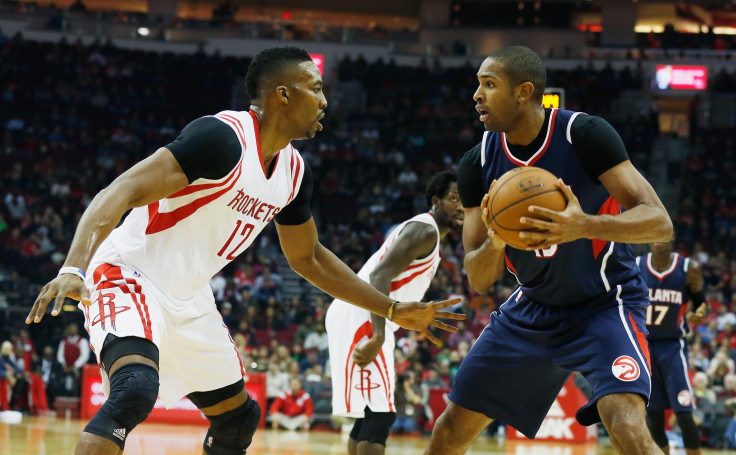 The Cleveland Cavaliers are the clear frontrunners in the East, but their biggest challengers in the conference are looking to upgrade their rosters and make an NBA Finals run. According to the latest trade rumors, both the Toronto Raptors and Boston Celtics have been active in talking to teams around the league regarding available players.
Toronto has talked to the Denver Nuggets and Brooklyn Nets about potentially acquiring Kenneth Faried or Thaddeus Young, according to ESPN's Marc Stein. The Raptors have also been in contact with the Phoenix Suns about Markieff Morris and P.J. Tucker. Boston could be looking to add a bigger name, having been linked to Al Horford. There's been speculation that they could go after Dwight Howard, as well.
Earning the No.1 seed and home-court advantage throughout the Eastern Conference playoffs is an attainable goal for Toronto, who is just three games behind Cleveland at the All-Star break. After consecutive 48 and 49-win seasons, the Raptors are on pace to win 55 games in 2015-2016. DeMar DeRozan and Kyle Lowry give Toronto the NBA's second-best back court behind only the Golden State Warriors, and improving at power forward could make them a much more formidable contender.
Four of Toronto's starters average at least 11.7 points per game, and only power forward Luis Scola is not in double-digits. Teams like Denver, Brooklyn and Phoenix could be looking to sell before the Feb. 18 trade deadline since they are all at least 10 games under .500, and the Raptors have some valuable trade assets. Toronto has two first-round picks in the 2016 NBA Draft, and one will likely be a lottery selection.
NBA Eastern Conference Standings | PointAfter
Boston has even more pieces to trade than Toronto. They own the Nets' first-round selection, which could very well be a top-three pick. The Celtics also have the Dallas Mavericks' No.1 pick if it lands outside of the top seven, in addition to their own.
At 32-23, the Celtics are 7.5 games behind the Cavaliers with the third-best record in the East. Boston is led by Isaiah Thomas, who made his first All-Star team by averaging 21.4 points per game. Avery Bradley and Jae Crowder have been very good two-way players for Boston, combining to score nearly 30 points per contest.
The Celtics don't have a superstar, and it's expected that they will try to turn a few of their assets into one of the league's premier players. The Houston Rockets made news on Thursday when it was reported that they were shopping Dwight Howard, who will likely opt out of his contract and become a free agent this summer. Boston would appear to be a potential landing spot for the center, but The Boston Globe's Adam Himmelsbach says the team isn't very high on Howard, and they are much more interested in Horford.
There's a good chance that Horford will leave the Atlanta Hawks as a free agent this offseason, making Atlanta open to the possibility of dealing the big man. According to The Vertical's Chris Mannix, Boston general manager Danny Ainge is "excited" about the idea of acquiring Horford. A trade, however, might not be in the cards, forcing the Celtics to wait for the summer to make a move. Mannix has called Atlanta's asking price for Horford and point guard Jeff Teague, who is also available, "ridiculous."
If neither Toronto nor Boston makes a trade within the next week, it will be difficult for them to compete with Cleveland in the playoffs. The Cavs are odds-on favorites to reach the NBA Finals for a second straight season, and LeBron James hasn't missed the finals since 2010.
© Copyright IBTimes 2023. All rights reserved.