NBA Trade Rumors: Could Pelicans Star Anthony Davis End Up On The Boston Celtics?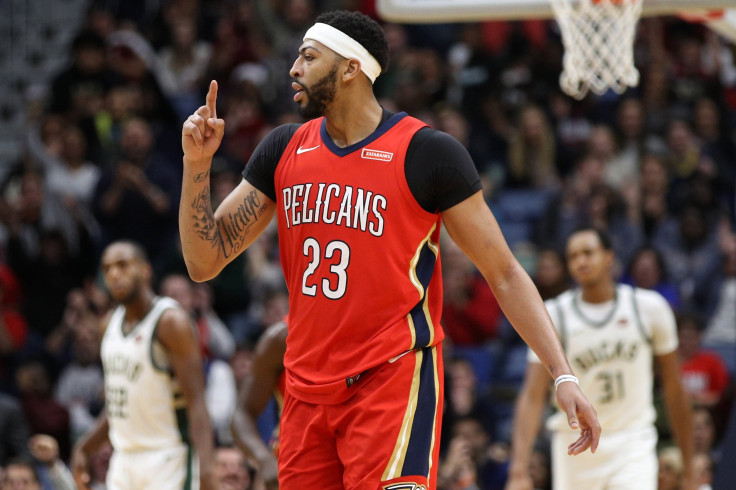 Though toiling as a mid-tier team in the Western Conference, the New Orleans Pelicans still boast a franchise-defining star in power forward Anthony Davis. According to ESPN's NBA insider Adrian Wojnarowski, the Pelicans have zero interest in dealing him no matter what package teams are offering.
The Boston Celtics have reportedly shown the most interest in Davis, who is signed through the 2020-21 season. Davis is in the second year of his contract and earns $23.8 this season and will earn $25.4 million next season. He is slated to earn $27.1 million in 2019-20 and $28.7 million in 2020-21.
"Boston has remained vigilant on the possibility of acquiring Davis, and Davis knows it," wrote Wojnarowski on Tuesday. "However, the Pelicans have no intention of trading an all-world talent under contract through 2021, no matter the return."
General manager Danny Ainge almost certainly would welcome Davis to be part of a superstar trio with Kyrie Irving and Gordon Hayward. Boston is expected to remain a top contender in the Eastern Conference for years due to a talent-rich roster and a bevy of draft picks, but Davis might be considered the missing piece for the club to win their first title since 2008.
The Celtics have several young players that could draw interest from teams. Jaylen Brown, Jayson Tatum and Terry Rozier could be included in a package that also includes draft picks and a big salary to complete a blockbuster deal. The Celtics could also have the Los Angeles Lakers' 2018 first round pick if it falls between No. 2 and No. 5.
But to land Davis it would take the 24-year-old requesting a trade. Davis represents the best opportunity for New Orleans to become a legitimate contender after just one playoff-series victory since moving from Charlotte in 2002 and its last playoff win coming in 2011.
The four-time All-Star has reportedly heard his name in trade speculation. Wojnarowski pointed out that Davis spoke with general manager Dell Demps about the Celtics inquiring about him and was assured he wasn't leaving New Orleans.
The Pelicans (17-16) are currently tied for the seventh-best record in the West. Since acquiring DeMarcus Cousins on Feb. 20 from the Sacramento Kings, in what was expected to be a turning point for the club, the Pelicans have a record of just 28-30.
Davis is averaging 25.1 points and 10.4 rebounds per game this season.
© Copyright IBTimes 2023. All rights reserved.