NBA Unlikely To Pause For 2021 Tokyo Olympics, Adam Silver Says
KEY POINTS
Adam Silver says the NBA is unlikely to pause the 2021 season for the Tokyo Olympics
The NBA has 108 international players this season, most of whom are expected to represent their countries in the Olympics
The next season could start in January 2021 as the NBA calendar adjusts due to the COVID-19 pandemic
The NBA is unlikely to pause its season for the Summer Olympics in Tokyo next year, league commissioner Adam Silver said.
Silver was noncommittal as he spoke in an interview with NBA TV on Friday, citing several reasons as to why it is improbable for the league to give way for players wanting to play in the prestigious sporting event.
"We'll consider it. I think it's unlikely, at the end of the day, that, if we start late, we would stop for the Olympics," Silver said. "Because, as you know, it's not just a function of stopping for the period in which they are competing over in Tokyo. But they require training camp, and then they require rest afterwards."
The landscape of the league has changed with the emergence of basketball superstars hailing from outside the U.S. Based on the data gathered by ESPN, the NBA listed 108 international players among its active rosters at the start of the season.
Most of these international players, if not all, are tapped to represent their respective countries in international tournaments, including the Olympics. For that reason, Silver admitted that it would tough for him to impose the non-stoppage of play order come the summer of 2021.
"There are so many incredible players, beginning with the USA team, we'll be able to field a very competitive team," Silver said. "I am a bit worried about some of the international teams, because, as you know, some of their stars play in our league, and their absence would make a huge difference for those national teams."
"Having said that, I'd only say these are such extraordinary circumstances that, even if we set out to plan for the Olympics, how can they even know what the world is going to be like next summer and whether they can go forward?" he continued. "So I think during these extraordinary times, all the conventional rules are off the table, and everybody is going to have to make certain accommodations."
The NBA's calendar had to be adjusted due to the COVID-19 pandemic. The league recorded its first case of the virus in March, forcing a sudden hiatus of the season that lasted for four months.
Silver has since employed an unprecedented bubble system for the restart. The move proved to be a stroke of genius as the NBA has not recorded even a single positive case of the coronavirus among all members present inside the Walt Disney World Resort in Orlando, Florida.
The NBA Finals are currently ongoing, and barring any plagued circumstance, it could be deemed that Silver's blueprint for the resumption is a success.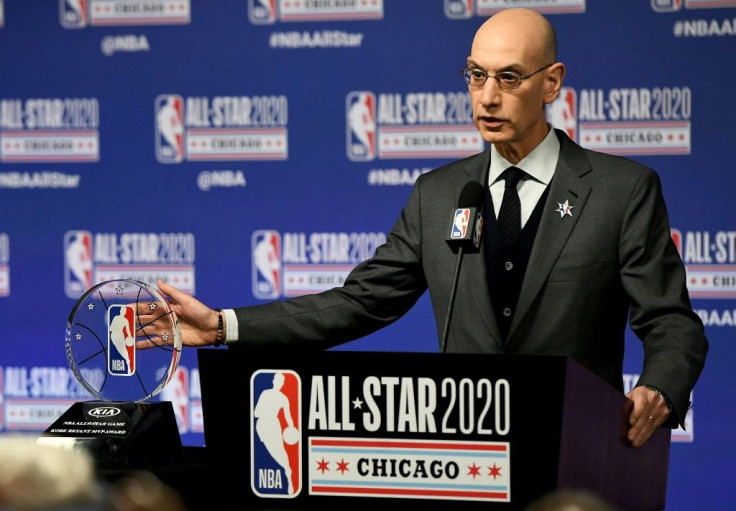 © Copyright IBTimes 2023. All rights reserved.
FOLLOW MORE IBT NEWS ON THE BELOW CHANNELS