Near Tikrit, Iraq's Sunnis Now Fear The Shia Who Liberated Them From ISIS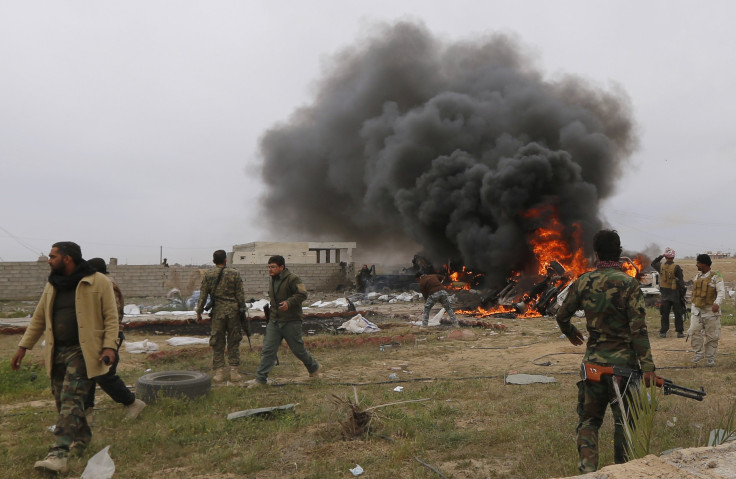 AL ALAM, Iraq -- This Sunni-majority town between Baghdad and Tikrit was liberated last month from the grip of the Islamic State group, by the Shiite militias that are driving, throughout this area, the fight against the Muslim extremists. But when residents who had fled came back to the town, they found that more than 130 people were missing. They were all kidnapped from their homes after the city was liberated, residents say. Their families hoped to find some trace of their brothers, sisters, daughters and sons, but all they found were hollowed-out and ransacked homes, crumbling storefronts and an empty town.
Residents of both al Alam and al Dour, a neighboring town where the majority of people are also Sunnis, told International Business Times that after liberating the towns, members of some Shiite militias looted homes and dozens of stores and offices. They may also have killed the 130 people missing from al Alam, residents say, but no one knows for sure. Some top Iraqi officials agreed that the militiamen were responsible. The abduction has led to widespread mistrust of the Shiite militias, many backed by Iran, that are now in control of most the surrounding area.
But al Alam isn't the only town in Iraq where Sunni residents fear retribution from Shiite militias after the Islamic State group, also known as ISIS or ISIL, is defeated. There have been reports of Shiite militias destroying homes, and killing residents, in places such as Diyala province, Fallujah and neighborhoods on the outskirts of Baghdad.
"These forces were very aggressive and they killed people," said Raad al-Duluki, a Sunni member of the Iraqi Parliament from Diyala. "There are displaced families from Diyala that cannot get back there because it is under control of Shiite militias. They fear they will kill them."
These towns in Diyala province, northeast of Baghdad, the areas surrounding Tikrit to the north, and some neighborhoods in Anbar province in the west that have experienced the looting and sectarian killings by Shiite militias had suffered similarly under their mortal enemies, ISIS.
Najma Awad Yusuf, 70, said she stayed in her home during the terrorist group's nine-month occupation of the town. She may be the only person in al Alam, perhaps in this entire area, who met the men who slaughtered dozens of her neighbors and stole her family's most precious belongings.
"They said they would hurt us if we didn't leave. But I couldn't bear to leave the house where I raised my children and built our farm. And I wasn't a threat to them," she said. "I was fully depending on my God to keep me safe." Her faith was rewarded, but not everyone in town fared as well.
In a house down the street from the Yusufs', a family is hosting at least 15 people, including at least five children. The father of one of the families, Ahmed, was arrested and detained by ISIS during its occupation of the town. For almost four weeks his family did not know if he was dead or alive.
"They took him and beat him, held him in a prison on the outskirts of town," said Ahmed's brother, a tribal leader here who did not want his name published. During his captivity, Ahmed's wife gave birth to their third child. He is one of the lucky ones who escaped.
Yet, even after surviving ISIS, the people of al Alam are worried about what may happen to them at the hands of the Shiite forces. The distrust goes back to the sectarian rule of Prime Minister Nouri al-Maliki, from 2006 until last year, when Iraqi Sunnis were oppressed by harsh government policies, enforced by an army and police that were almost uniformly Shiite.
On Monday, United Nations Secretary General Ban Ki-Moon visited Baghdad, and echoed the worries of Sunni Iraqis about the Shiite militias. Senior advisers to current Prime Minister Haider al-Abadi told International Business Times that Ban spoke to top officials about his concerns regarding human rights abuses among Iraqi military ranks.
In a statement following the meetings, Ban said that "civilians freed from the brutality of Daesh should not have to then fear their liberators," using an Arab acronym for ISIS. Ban's statement comes after a scathing Human Rights Watch report released on March 18 that details abuses committed by Iraqi security forces, as well as volunteer fighters, that included the "deliberate destruction of civilian property."
The tribal leaders in al Alam are part of the al-Jubouri Sunni family, and the city is now patrolled by their armed men, who took over after the Shiite fighters passed through. They were formerly part of Hashd al-Shabi, the umbrella group that includes many Iraqi militias, made up mostly of Shiites but also Sunnis and even Christians.
Although the residents here say they trust the tribe's armed men to keep them safe, they think more should be done to find those still missing from the town.
Some Sunni leaders are trying to create a national guard, a force that would serve not only as a protection unit for civilians but also take on tasks like finding the 130 people missing from al-Alam. Sunni representatives in parliament said they are trying to put together the new force -- but there have been disagreements among factions in the government about whom should the new units report to. Some think the national guard should be under the jurisdiction of the prime minister, who is a Shiite, while others think it should report to the local municipalities.
"If Hashd al-Shabi formed quickly and was approved by the central government, why can't we form the national guard?" said Talal al-Zuba'y, a Sunni member of parliament.
As for the Shiite leaders of Hashd al-Shabi, they say that, despite the accusations, they are not targeting Sunnis, who are the minority sect nationally but populate many of the current war zones. They say there is no evidence of abuses carried out in retaliation for the massacres of Shiite soldiers by Sunni ISIS, or for the decades of Saddam Hussein's Sunni dictatorship.
"We were persecuted under Saddam. Despite this, we are helping the Sunnis," said Maytham al-Zayidi, the leader of the Imam Abbas battalion. "We are helping the entire world by fighting ISIS."
FOR FREE to continue reading
✔️ Unlock the full content of International Business Times UK for free
offer available for a limited time only
✔️ Easily manage your Newsletters subscriptions and save your favourite articles
✔️ No payment method required
Already have an account?
Log in
© Copyright IBTimes 2023. All rights reserved.