Nepal Earthquake: Mount Everest Climbers Stranded At Higher Altitudes Airlifted To Safety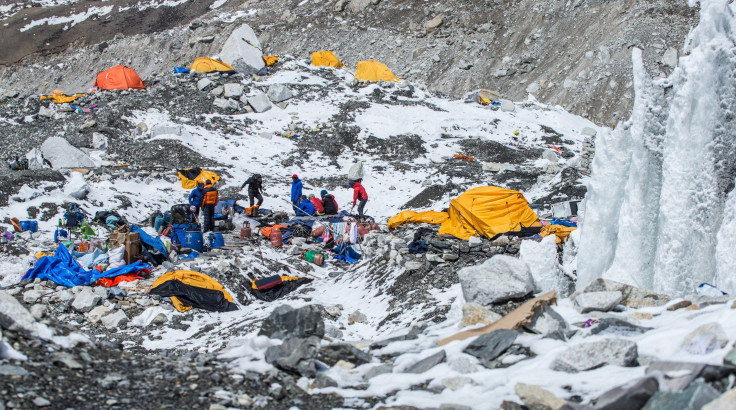 All the climbers stranded at high-altitude camps on Mount Everest after Saturday's earthquake in Nepal, and subsequent avalanches, have been airlifted to safety, mountaineers said Tuesday, according to Reuters. Eighteen climbers were reportedly killed, while over 60 were injured on the mountain following the 7.8 magnitude earthquake that led to the worst disaster on the mountain.
Three helicopters reportedly carried climbers from Camp 1 while other climbers at Camp 2 trekked back to be airlifted. Camp 1 is reportedly located above the now-impassable Khumbu icefall. The evacuations took place as the weather cleared on Monday after the deadly earthquake, which has killed more than 4,000 people in Nepal.
More than 40 teams of climbers were making their way up the mountain on Saturday when the earthquake hit, trapping over 200 people at two camps, both around 21,000 feet. Nearly 170 people were brought to the base camp from Camp 1 on Monday.
"Everest, above base camp, is now empty," Danish climber Carsten Lillelund Pedersen posted on his Facebook page, according to Reuters. "A lot of gear, tents, oxygen, fuel etc is stashed a camp 2 ready to 'rebuild' later this season."
Twenty-one of those injured on Everest during the quake are in serious condition, Ang Tshering Sherpa, head of the Nepal Mountaineering Association, said according to Reuters.
© Copyright IBTimes 2023. All rights reserved.