Nepal Earthquake Update: Death Toll Rises To 4,438 In 3 Countries; UN Says 8 Million People Affected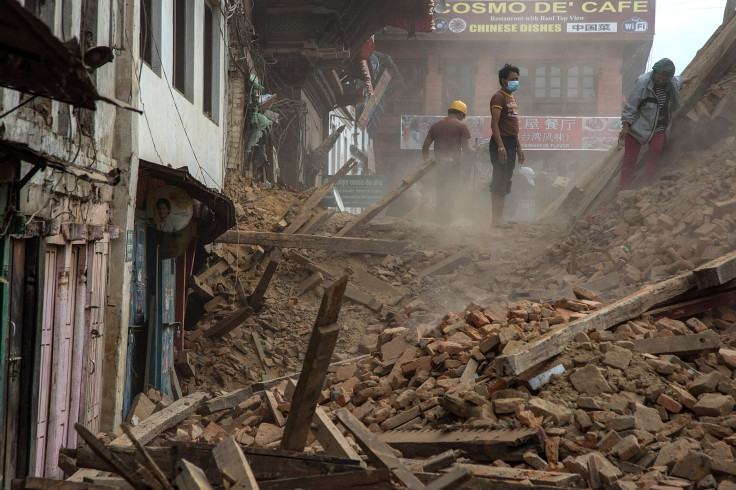 Update as of 2:40 a.m. EST: The death toll from the devastating earthquake that rocked Nepal on Saturday could reach 10,000, Reuters reported Tuesday, citing the country's Prime Minister Sushil Koirala.
"The government is doing all it can for rescue and relief on a war footing," Koirala told Reuters, adding that he has appealed to other countries to supply more tents and medicine. "It is a challenge and a very difficult hour for Nepal," he said.
Original story:
The death toll from the powerful magnitude-7.8 earthquake that rocked Nepal on Saturday has risen to at least 4,438, the Associated Press (AP) reported, citing officials. The quake and its aftershocks, which according to United Nations estimates has affected 8 million people in Nepal, has also claimed dozens of lives in India and Tibet.
Rescue teams have so far recovered at least 4,352 bodies three days after the massive earthquake struck near Nepal's capital city of Kathmandu, AP reported, citing a local police officer. As the death toll continues to rise in the landlocked Himalayan country, Nepal's government said Monday that it was ill-equipped to handle the disaster, which is estimated to cost the country about half of its annual economic output.
According to the police official cited by AP, the death toll includes 1,176 bodies recovered in the Sindhupalchuk district, northeast of Kathmandu. He also said that 8,063 people were injured in the quake, which destroyed several houses and buildings in Nepal, including the historic Dharahara Tower, a nineteenth century watchtower.
In India, the death toll has risen to 72, Press Trust of India, a local news agency, reported, adding that a fresh 5.1-magnitude tremor was felt on Monday in parts of the eastern Indian state of West Bengal. China's official Xinhua news agency reported Monday that 25 people had died in Tibet while 117 others had sustained injuries from Saturday's earthquake.
Meanwhile, rescuers are struggling to recover the dead from the rubble, while the Nepali government has requested more foreign aid to help with the recovery efforts.
"We have manpower. But we don't have nearly enough equipment to do the job," Tek Bahadur Garung, Nepal's Transport Minister, told AP. "We need help from every country that will give it. We need bulldozers, cranes, scaffolding, machinery."
While China, India, the U.S. and the U.K. have dispatched aid and personnel to Nepal, the country said that it would need more assistance, ranging from blankets and food to helicopters and medical workers, BBC reported.
The U.N. said in a report Monday that about millions have been affected by the earthquake. "According to initial estimations and based on the latest earthquake intensity mapping, 8 million people in 39 districts have been affected, of which over 2 million people live in the 11 severely affected districts," the U.N. said.
© Copyright IBTimes 2023. All rights reserved.